Northampton Saints fans expect success - Jim Mallinder
Last updated on .From the section Rugby Union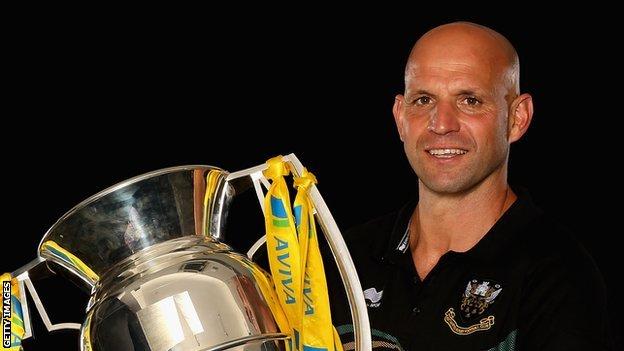 Northampton Saints director of rugby Jim Mallinder says they are ready to meet the expectations of the club's fans this season.
Mallinder told BBC Northampton: "I understand the expectation. We are a big club and the fanbase expect to come and see a winning team.
"The players and coaches know that, and that's what we want to deliver."
Saints were playing in National League 1 in 2007-08 but under Mallinder and coaches Dorian West and Paul Grayson, they have established themselves in top-flight European rugby and the top four of the Premiership.
"We look back to last season and we missed a lot of our good players during World Cup and autumn internationals," said Mallinder.
"At one point, we were second from bottom in the league. We came back and we were five minutes away from reaching our first Premiership final.
"We were 40 minutes away from winning the Heineken Cup.
"We're not far off and we need to make sure we keep our players fit and motivated and then we have a good chance of exceeding ourselves."
Saints have comfortably beaten Leinster and Edinburgh sides in pre-season, losing narrowly to Zebre, ahead of their first Avivia Premiership game away to Gloucester.
"Maybe the opposition haven't asked enough questions of us," said Mallinder. "But pre-season counts for nothing and it's about what happens on Saturday."
Forward Phil Dowson says they do not want to look back at the end of the season looking for excuses.
"We're a big club and we're in desperate need of some silverware," he said. "The World Cup and missing players end up being excuses.
"Last year we were a nearly team. We nearly beat Munster away and nearly beat Leicester away.
"We almost got into the Premiership final. But there's no quick fix and you get there through solid graft. Through the adversity, you're drawn together."
Meanwhile, Saints have added 24-year-old Leeds Carnegie hooker Scott Freer to their squad.
"He's down here on loan and we're confident he'll add to the squad and push the other three hookers," said Mallinder.
"[With full registration still pending] we won't consider him for this weekend, but we'd like to have him on-board as soon as possible."