London Scottish better prepared, says Lewis Calder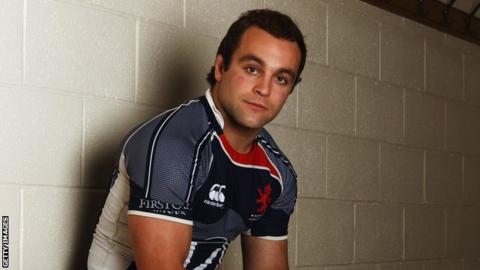 London Scottish captain Lewis Calder believes the side are better prepared for the upcoming Championship campaign.
The Exiles finished ninth last season but only narrowly avoided relegation to National One by coming third out of four teams in the relegation pool.
The 24-year-old told BBC Sport: "Last year was very much about consolidating and we feel as though we did that.
"The end of the season was closer than we would've liked but we learned a lot of lessons from coming through that."
The open-side flanker added: "It was a bit too close for comfort but to come through that as a squad, we've got to look at that as a positive.
"It wasn't in the fashion we would have liked but we did consolidate.
"There were a large number of matches that were decided by a couple of points or in the last couple of minutes. It's a case of getting those little margins right and it can suddenly make a huge difference."
Calder believes the south west London outfit could benefit to the changes made to the Championship structure, which has seen the relegation pool scrapped.
"We feel the new league structure is healthier for the league and this season is about moving on," he added.
"The way it has been revamped, there is more reason to go after every game.
"We've brought in about 13 new signings and these are important guys who have played and performed in the league and can help the club move forward.
"Recruitment has gone well but it's about getting the right combinations on the pitch."
Scottish begin the season at home to Rotherham Titans on Sunday.