London Irish boss Brian Smith excited by new season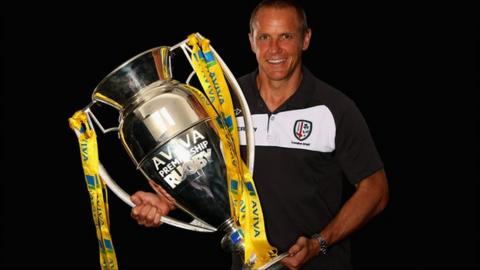 London Irish boss Brian Smith has urged his side to change their mentality and lift some silverware this season.
The Exiles take on Saracens in Saturday's Premiership opener and director of rugby Smith says the club have set their sights high this year.
"I am really excited by the project here at London Irish. I feel fortunate that the directors wanted me to come back," he told BBC Radio Berkshire.
"The challenge for everyone is to go from being good to being winners."
London Irish have undergone a major overhaul in the summer with senior players and management leaving, but Smith, who has returned to the club, says everyone is now focussed on the new season.
"It would have been nice to crack on with the same crew we started with in 2005 but we're not," he said.
"Everyone has had to make their decision based on the decision I made to come back and they've all done that and I wish them all the best.
"I'm genuinely excited, not just by the first team although that is what we'll be judged on, but in terms of improving the academy system, and building a new £10m training complex - it's a very exciting time.
"The thing that drives me is I'd like us to go from being a good team to a team that wins trophies and that is a different project to the one in 2005.
"In 2005 it was about winning respect as we were cellar dwellers for a few seasons and it hurt everyone at the club and we turned things around.
"Sometime in the next three years we want to lift significant silverware and that starts with the Premiership on Saturday when we play Saracens. Why not go for it in year one?"
Smith genuinely believes his side are capable of challenging for honours this season and is proud of the team he has assembled.
And he added that they have spent all of their £4.2m salary-cap budget, saying: "We've put together a competitive squad and we need to cross our fingers and look for a bit of support from above in terms of injuries.
"We need good fortune there and we need to select well. But we will be competitive on and of the pitch. Rugby is what this club is about and we will be responsible in running a break-even budget. We have to be sustainable."