Guernsey Rugby Club biggest challenge 'unity'
Last updated on .From the section Rugby Union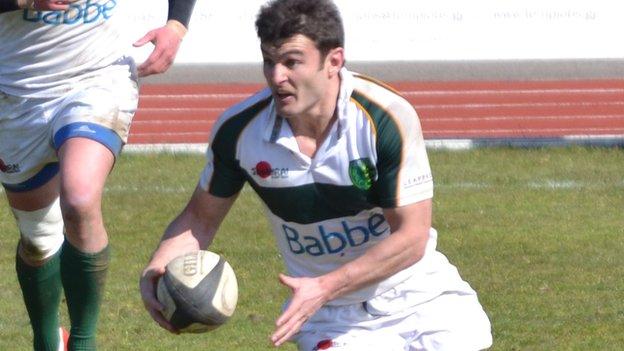 Keeping the team united and focussed will be biggest challenge this season, according to player/coach of Guernsey Rugby Club Jordan Reynolds.
The side competes at its highest ever level in National Three London South East after back-to-back promotions.
Reynolds said: "When you have two big seasons like we had it can be mentally draining on the side.
"We can't be too worried about what other teams are doing, at the best of times we just worry about ourselves."
Guernsey play their first match away to Staines on Saturday.
Reynolds told BBC Guernsey: "The squad is looking pretty good, we've been trying to build it as much as we possibly can over the pre-season. We're missing a few guys, we've had a few injuries - you do in pre-season.
"We've got to rely a bit on our depth this week. We're missing Blair Campbell and Cameron Craine, which is a big loss, but we have to see what we can do with that.
"I wouldn't say we are confident, we don't want to sound arrogant or anything like that. I think going into National Three is an unknown but we just have to be confident in our own ability and work from there."
He said the success of Jersey Rugby Club in getting promoted to the Championship had put a spotlight on the sport in the Channel Islands.
"A lot of teams are looking at us and think we're the same as Jersey, but we're not quite, we don't have that kind of funding.
"But it does put us on a pedestal and that's great, it puts pressure on us to perform and I think every team needs that.
"We don't want to be sitting there in the bottom half of the league, we want to be pushing right up to the top there so I think that's probably fitting for us."