RFU issues apology to former chairman Martyn Thomas
Last updated on .From the section Rugby Union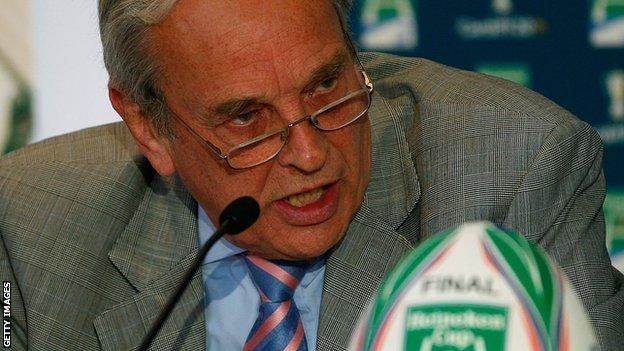 The Rugby Football Union has issued a public apology to its former chairman Martyn Thomas.
Thomas, who stepped down in November, was criticised in a report into the exit of chief executive John Steele.
The report claimed Thomas leaked confidential information, breached confidentiality and had "inappropriate contact" with a senior job applicant.
The RFU now admits there was "insufficient evidence" for those conclusions and has withdrawn them.
"We wish to thank Mr Thomas for his many positive achievements during his long and valued service to the Union and wish him well for the future," an RFU statement read.
"The RFU apologises to Martyn Thomas [and] is now pleased to bring this matter to a close."
Steele was controversially dismissed in June 2011 and the RFU Council set up a review to examine the events that led to his departure.
The review was then sent to RFU member clubs and extracts were published by several media outlets.
But a further independent review by Charles Flint QC, commissioned by the RFU, questioned some of the procedures used in the Council report and found there was no direct evidence to support misconduct charges against Thomas.
Thomas, who was also acting as chief executive of the Union at the time, made it clear he would consider defamation proceedings against the RFU if an apology was not made.