Lions 2013: Warren Gatland promises impartial selection
Last updated on .From the section Rugby Union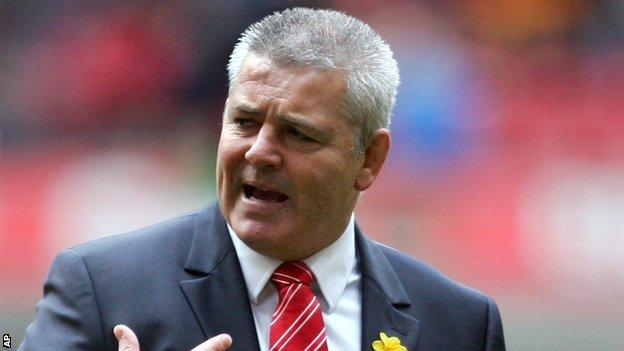 British and Irish Lions coach Warren Gatland says he will be impartial when choosing his 2013 Australia tour squad.
The last man to coach the Lions in Australia was Graham Henry, who, like Gatland, was Wales coach at the time.
Gatland said he would ask Henry for his advice but thinks his fellow New Zealander may have been too loyal to some Wales players in 2001.
"At some stage, I will take the opportunity to talk to Graham," Gatland told BBC Sport Wales.
"Part of the problem in 2001 - and I think it would be Graham's criticism of 2001 - was there were probably too many Welsh players selected.
"Some of them weren't probably good enough to go on the tour in the first place."
Gatland admits that some players will inevitably be disappointed at missing out on selection for next year's three-Test tour against the Wallabies.
But the Kiwi says he has always been prepared to make tough selection decisions for the good of a team.
"If I was worrying about that, then I'm probably not the right person for the role," Gatland added. "I've got to be confident in my own coaching ability, confident in my relationship with the players."
Although Gatland has begun his 10-month stint as Lions coach, he will return to coach Wales in the last two autumn internationals against New Zealand on 24 November and Australia on 1 December.
He says the Lions management were not keen on him remaining involved with Wales but that they were persuaded there would be benefits, notably that Gatland would get an opportunity to assess the Australian team ahead of the 2013 tour.
"It gives me a chance to coach again against Australia and I really wanted to have another opportunity to coach Wales against the All Blacks," said Gatland.
"Those things are important. They are the two best teams in the world at the moment."
Gatland also felt it was important to do as much coaching as possible in the build-up to the 2013 tour, especially in the light of his enforced absence after breaking both heels in an accident.
"I have to have my hands involved a little bit - get them a bit dirty - and it's a chance for me to make sure I'm coaching on the ground," he said. "Coaching against the All Blacks and Australia gives me that great opportunity."
After the autumn internationals, Rob Howley will again take over as Wales caretaker-coach, leaving Gatland free to concentrate on the players he will have to select his Lions squad from.
"It will give me an opportunity to get round and spend some time with the other teams in the Six Nations," Gatland said. "I think it's important that there's a view of impartiality."