Leicester's Craig Newby retires because of knee injury
Last updated on .From the section Rugby Union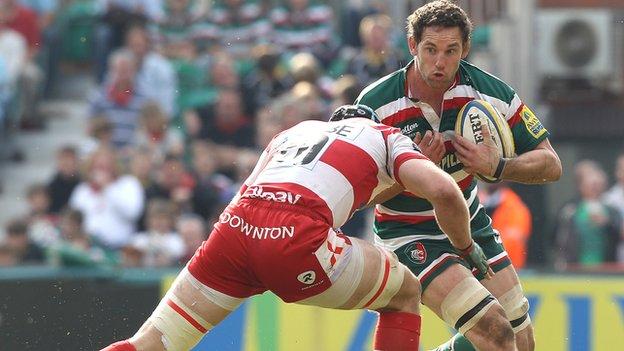 Leicester Tigers back-row forward Craig Newby has been forced to retire from professional rugby because of a persistent knee injury.
Newby, who won three New Zealand caps, was part of the Premiership-winning squads of 2009 and 2010 and captained the side in the 2011 Premiership final.
"It was a fantastic journey and I would not change a thing. Well, maybe look after the knees better," he tweeted.
"A massive thanks to all that have supported me throughout my career in NZ and UK. Sad to leave the game that's given and taken so much.
"Coming to Leicester has been a great experience and I have a lot of good memories."
"We've been involved in a lot of big games, the semi-finals and finals in the Premiership and in the cup competitions. There have been a lot of highlights.
"Outside the rugby, the thing that stands out for me is that, although the club is a big business, it is also like a big family and everyone is very welcoming."
Newby, who also played for Newcastle Falcons in 2002-03, said he was keen to stay working in rugby in England.
"I've made some good mates in England. I love living here and that is something I want to continue to do," he added.
"I would like to stay in rugby in some capacity, and coaching does appeal to me.
"I've worked with a lot of good coaches and top-class players in my career, and I would like to think I have picked up a knowledge of the game that I would like to pass on in a coaching capacity somewhere."
Director of rugby Richard Cockerill said: "Newbs has been a key member of the squad.
"He is a quality player, his knowledge of the game and his leadership qualities have been very important.
"It is sad to see his career come to an end due to his knee injury, but we all wish him well in the future and he will always be welcome here."