Coach Steve Tandy claims no 'crisis' at Ospreys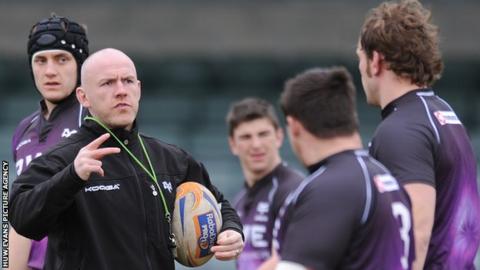 Ospreys coach Steve Tandy has insisted there is no "crisis" at the reigning Pro12 champions.
After opening the season with an away defeat in Italy to Treviso, Tandy's side lost at home to Ulster on Saturday.
"I don't think it is a crisis or something," said Tandy.
"We were a champion team two games ago and all of sudden people are looking in and thinking it's doom and gloom, but it's not."
He added: "The boys are in great spirits but they are frustrated, just as much as the coaches, because they love winning.
"We crack the whip, whether we win or lose, but I don't think things should change on the back of two defeats."
Ospreys are one of three teams - along with Italian Franchise Zebre and Glasgow - still looking for their first victory of the season.
Tandy's side face Glasgow at the Liberty Stadium on Friday night.
"We don't like losing games and we are not used to losing games," said Tandy.
"We have lost two on the bounce but if you looked at the performances and thought there was so much wrong with it, it might be different. But there hasn't been a lot wrong with our performances.
"We are not far away but we don't want to go losing three or four games on the bounce. We just have to stick to our guns because there is not a lot wrong with our game."