Redruth number eight Tom Duncan has ambitions to go higher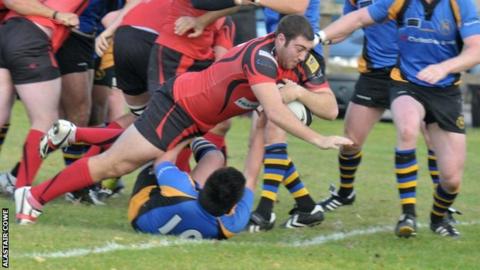 Redruth number eight Tom Duncan has admitted he has ambitions to play at a higher level, but his first priority is to play well for the Reds.
The 22-year-old was a revelation last season, scoring 18 tries in several man-of-the-match displays.
"I'd like to see how far I can go in the game in the future," Duncan told BBC South West.
"But I'm not thinking about it right now, I'm just focused on doing the best I can here at Redruth."
Duncan, who joined the club as a 14-year-old before making his debut in 2009 added: "If an opportunity came about down the line then who knows?"
He has had to wait for his chance at the Rec, with New Zealander Mark Bright starring for Redruth at the base of the scrum.
Bright moved to Championship side London Scottish last year and his protege has taken his opportunity to become one of the first names on the teamsheet.
"Obviously Brighty was a great player, but with him being around it meant I had to improve and learn quickly," he added.
"It's funny, I'm only 22 but I'm one of the senior players really. There are quite a few younger than me in the team now."
Redruth beat their local rivals Launceston on Saturday to give prop .
He continued: "We expected a tight game as the derbies are normally won by a few points, so it was good to beat them by that score and the celebrations with Joycey went on till late.
"No-one is getting carried away, especially if last night's training is anything to go by."
The Reds do not have a game this weekend as they were due to play Rugby Lions, who dropped out of the league.