Nathan Hannay: Jersey must adapt to Championship rugby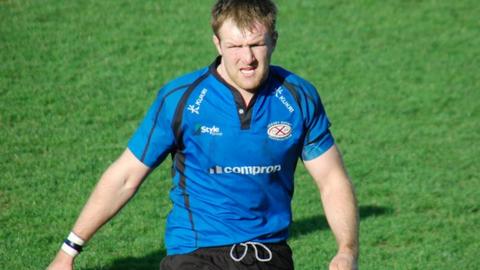 Jersey captain Nathan Hannay says his team must adapt their style of play if they are to survive in the Championship.
The island side lost their third successive game on Saturday with a 31-12 defeat at home to Moseley and have yet to pick up a point this season.
"All the boys knew coming into this league it was going to be hard," Hannay told BBC Radio Jersey.
"I've said to the boys that we've got to adapt to survive."
Hannay continued: "We didn't turn up and we can't play like that and get results."
Jersey have had a tough start to life in English rugby's second tier after a meteoric rise up from the lower leagues.
But Hannay says his side will get the results they need if they apply themselves and work hard.
"Silly mistakes in this league will costs us big," he added.
"We're going to trust our systems, stop our mistakes and hopefully when we stop the mistakes the wins will come.
"I believe in the boys 100% and once we get the mistakes out and we work hard at training doing that it will come.
"Nearly's not good enough any more. We've got to cut the mistakes out, once we do that wins will definitely come.
"It's only the third game in and I'm pretty confident in the boys that we will have a reaction to this."