London's Olympic Stadium may host 2015 Rugby World Cup

By Dan Roan
BBC sports news correspondent
Last updated on .From the section Rugby Union45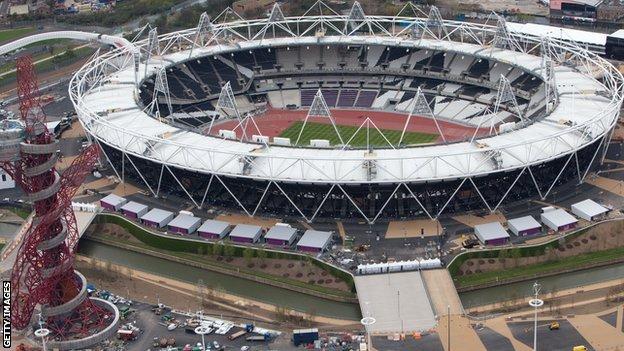 The Olympic Stadium could host matches at the 2015 Rugby World Cup, according to tournament organisers.
They want to build on the success of the London Games as they prepare for England's next major sporting event, now exactly three years away.
"You would be mad not to include it as part of your thinking," said Ross Young, chief operating officer of England's organising committee.
Uncertainty still surrounds the future of the 80,000-capacity venue.
West Ham are one of four bidders interested in making the stadium their home.
But if a tenant is found before the list of 10 to 12 Rugby World Cup stadia are chosen at the start of next year, the iconic arena could feature in 2015.
The Olympic Stadium would certainly help organisers meet their £100m profit target.
Football grounds like Old Trafford, Anfield and Wembley are expected to host matches, alongside Twickenham and Cardiff's Millennium Stadium.
Leicester Tigers' home, Welford Road, and Gloucester Rugby's Kingsholm are the only club rugby venues that have expressed an interest in staging games.
"To get as near as we can to the three million ticket sales, we have to engage with football clubs because they are the only ones who are going to give us the capacity to drive those numbers," Young said.
Debbie Jevans - a key player in the delivery of the Olympics - will soon replace Paul Vaughan as the event's chief executive.
Chairman of England 2015 Andy Coslett told BBC Sport: "Paul Vaughan made a huge contribution and has our gratitude.
"It's always a difficult thing to change leadership but we want this to be the biggest and best. That demands constant scrutiny of the team.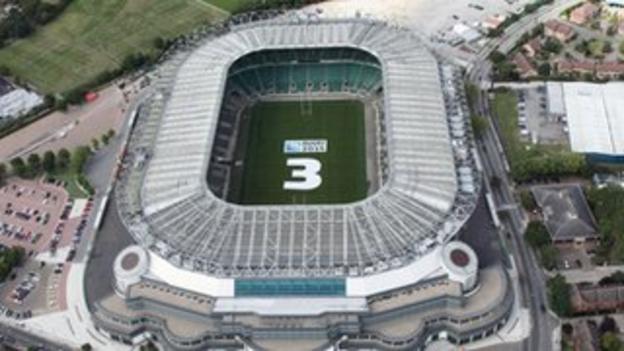 "The board felt Debbie, particularly as an architect of London 2012 and with the unparalleled exposure into what that took, and how you make normal venues very special, was a dimension we didn't have."
Newly appointed International Rugby Board chief executive Brett Gosper believes the tournament can harness the enthusiasm generated by the Games.
"We are conscious that there has been an amazing event that has happened in London in the Olympics. Everyone is having withdrawal symptoms," he said.
"It really did capture the hearts and minds of [people in] this country and across the world. Everyone was in awe of what happened... it's putting the right kind of pressure on us, but we're confident we'll deliver."
The build-up to the World Cup will start in earnest in early December when the pool allocation draw and match schedule is announced.
Ticketing, security and marketing strategies are yet to be finalised.