Martin Haag calm after first Nottingham defeat
Last updated on .From the section Rugby Union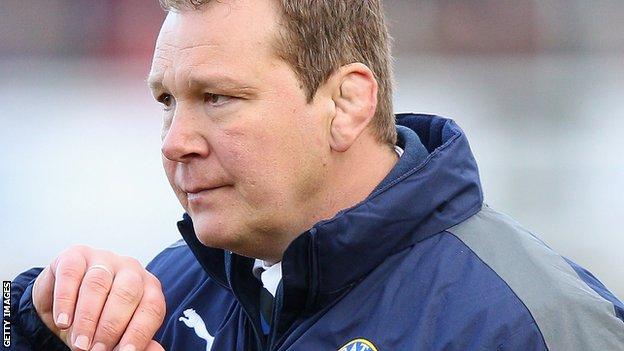 Nottingham head coach Martin Haag has said there is no reason to panic after losing their first game of the season.
Haag told BBC Radio Nottingham: "We had plenty of ball to win that game but for whatever reason we didn't fire.
"It shows we have a lot of work to do and it's a comedown. But we are a good team we already have good two wins."
Nottingham, who beat Leeds and Moseley in their opening two matches this term, seemed to have coped with Rotherham's physical approach and were growing in confidence at 9-9 with 20 minutes remaining.
But the visitors ran away with the game in the final quarter.
"The game's 80 minutes. We did really well at the start of the second half and they hardly got in our half for 15 minutes of the second half," Haag said.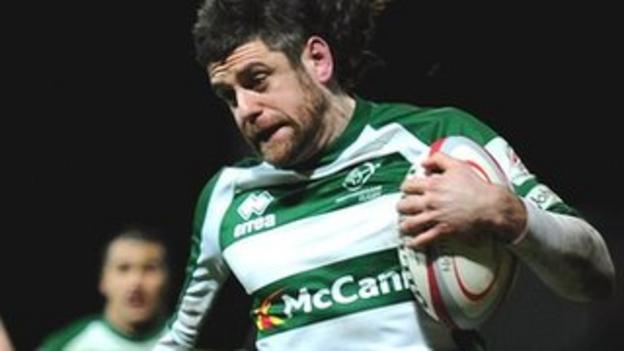 "At 9-9 all we felt comfortable but from the penalty try they had their tails up and when they have their tails up they are a good team. We started doing things that were out of character and we end up chasing the game.
"They were competitive and well drilled. We dealt it with pretty well for the first half but ultimately we let ourselves down in certain areas with the odd missed tackle and poor decision. We didn't deal with the breakdowns as well as we should have done to give us quick ball.
"It's frustrating and disappointing but it's a long, hard season and we have to learn from it.
"We'll come back firing against Bedford next week and if we do at we will be back on track. We didn't do enough to win that game."
Haag was also quick to praise long-serving back David Jackson, who surpassed Craig Hammond to become the highest capped player at Nottingham with his start at Meadow Lane.
"It's a fantastic achievement to have 267 league games, as well as all the other games has played," Haag said.
"He got better as the game went on, had a couple of opportunities and looked lively.
"It's tremendous. He's been a real stalwart and it was just a shame that we didn't get the result for him."