Jeremy Guscott Q&A

By Jeremy Guscott
Rugby union analyst, BBC Sport
Last updated on .From the section Rugby Union33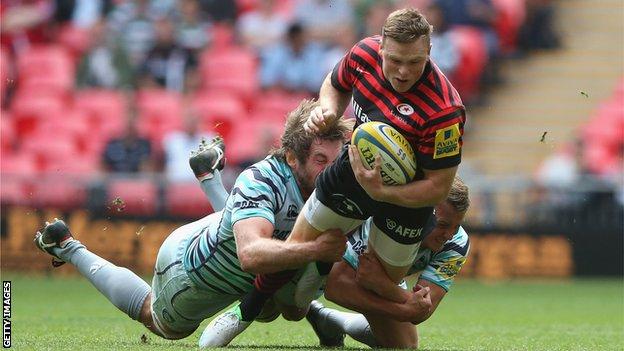 Among the topics Jerry discusses this week are:
- Glasgow condemning champions Ospreys to a third successive Pro12 defeat
- The Premiership's bumper new TV deal and the subsequent controversy
- Saracens and Leicester grinding out a 9-9 draw at Wembley
- Argentina's performances in the inaugural Rugby Championship
If you have a question for Jerry, on any topic, post it in the comments section at the bottom of the page. He will answer as many as possible but not every question submitted can be used.
What has happened to the Ospreys? Can they recover or is this going to be a terrible season for the Pro12 champions? Also do you think that the Ospreys' form will have any affect on the Welsh national side? Peter
Hi Peter, I believe this analysis sums up very well the problems Ospreys are having currently. The good news for supporters is it's a long season.
After good wins away at Bath and Gloucester, Saints look to be going strong and with two home games to come now will be confident of going five wins in five. Do you think they can finally reach their potential and win a major trophy?
With only three games played it's far too early to believe this is going to be the season for Saints, especially now losing one of your best players (Ben Foden) for several weeks. For me, Saints will be a bigger team with more of a threat if either of their fly-halves played more consistently and bossed the game throughout the season. Neither Ryan Lamb or Stephen Myler seem able to play well enough for long enough to keep the other from playing. Who is the leading number 10 at Saints? Find that and Saints will be a better team.
What do you make of the trouble surrounding the Heineken Cup? Personally, I can see why the English and French are angry, as Edinburgh and Treviso finished 11th and 12th respectively, Zebre had never kicked a ball in anger before this season, and all earned Heineken Cup rugby. How can this be fair? Do you see a resolution to the problem happening soon? NJDevilMatt
Hi Jeremy, What are your thoughts on the future of the Heineken Cup? I'm disgusted with the childish Premiership clubs' stance. The Rabo is every bit as competitive as the Premiership but just because their clubs are having a few lean years in the Heineken Cup they want it changed. They weren't complaining when they were winning it, pmatson
Hi all, we've all read and listened to what's happening and I find it all enthralling, this will go on for some time yet. It's basically about money but also about a level playing field in qualification for the best club competition globally. It is unfair that Rabo 12 teams have different qualification criteria than the English and French - it should be the same with just the top six Rabo teams to qualify. The French and English do attract more tv viewers because of their bigger playing populations but it wouldn't be anywhere as good a competition with just the French and English.
I think there are a number of compromises to negotiate such as having a representative from Ireland, Wales, Scotland and Italy somehow given automatic qualification. If BT offer more money with the same quality coverage then I can't see any of the teams not wanting a slice of that cash, especially Welsh or Scottish teams given their current financial situations.
I don't believe the English or French teams deserve more money than any other team participating in a European Cup competition. There should be bigger financial rewards for clubs the further you go in the competition. This debate between stakeholders is set to run and run and it won't be settled quickly unless there really is a lot of money on the table that can't be turned down.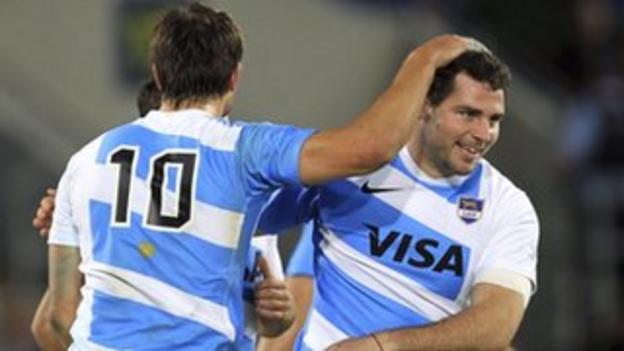 What have you made of the inaugural Rugby Championship and the Pumas in particular? Holding up well and could be very interesting for both NZ and Australia in Buenos Aires next weekend? RedGrandslam
Hi Red. Argentina have been nothing short of brilliant during the Rugby Championship, first game apart they have been extremely competitive and could have beaten both the Boks and Wallabies already. Without doubt they will give NZ a good run in a couple of weeks and they have a really good chance against the Aussies a week later. The competition has been indifferent for me, I've loved watching the brilliance of the All Blacks, they are so much better than the rest but even they look a tad jaded. The Wallabies and Boks have been dreadful by their own standards, particularly Australia considering they won the Tri-Nations last season. The Boks have nothing more than kicking to offer which is embarrassing when Bryan Habana is on fire! The Pumas are going to be a difficult team to beat in a season or two when they acclimatise to playing the top three teams in the world every year.
Hi, what are your thoughts on the upcoming autumn internationals? Do you think it will be one-way travel again or will there be a few surprises? I was laughing at the talk of Scotland beating the All Blacks considering recent results although the ABs played pretty poorly in the game I went to against the Springboks on the weekend, nic51
As always it will be hard work for the home unions to get a scalp but if Australia and South Africa arrive in their current form then I would expect England, Ireland, Wales and Scotland to beat them. The All Blacks are in a different league right now and I wouldn't give any home union a sniff, maybe Wales if they had the game of their lives.
Who should be England's centre pairing for the autumn internationals, Jerry? AndyT
Hi Andy, I believe it should be Manu Tuilagi and Jonathan Joseph
Having watched Leicester v Saracens at the weekend I was slightly concerned at the performance of both starting fly-halves. Charlie Hodgson gave a good account of himself in the second half, but what are your thoughts on the England no. 10 position as certain commentators in the press are promoting Jonny Wilkinson again? Chris Hind
Hi Chris, Will Greenwood recently wrote a good piece on this very subject and I agree with most of what he put down. Mix Toby Flood, Owen Farrell and Charlie Hodgson and you get a very good player, still not as good as Dan Carter but better than the individuals. Flood is the better option right now, he has more of an organisational game and better game management, plus he attacks the line more than Farrell does. Hodgson and Wilko have retired and shouldn't be asked to return given the other young talent we have in England like Freddie Burns and George Ford.
Hi Jeremy. I had the misfortune of watching the 9-9 draw at Wembley on Saturday and have never been less enthused by a sporting encounter; I left 10 minutes before the close of play. Do you think Saracens are guilty of playing 'anti-rugby' unless under duress, or was this a case of two closely-matched teams employing an ill-executed tactical approach?
Hi, I believe this was a case of two very competitive teams closely matched struggling to let themselves play. Tigers did play slightly the more attacking game but only very slightly. Both teams were trying but turned the ball over to easily. Sarries should have won, missing all those kicks!
Rugby players seem to be becoming bigger and bigger with each new season. Surely they cannot physically become much larger? Do you think we may finally be reaching the limits of modern nutrition and strength training and players will finally have to focus on the ball handling and distribution skills that seem to have been neglected in the northern hemisphere for so long? Beco90
Hi B, Rugby is still a game for all shapes and sizes, it's just all these sizes are well-conditioned. I hope the game is moving into a more attacking era after nearly a decade of defensive-minded rugby. Look at the physics of the All Blacks team, they don't look like overworked gym men but more athletic, skilful, well-conditioned rugby players with a lot of skill and technique - especially the forwards.