Nottingham's David Jackson ponders a 24-year one-club career
By Owen Phillips
BBC Sport
Last updated on .From the section Rugby Union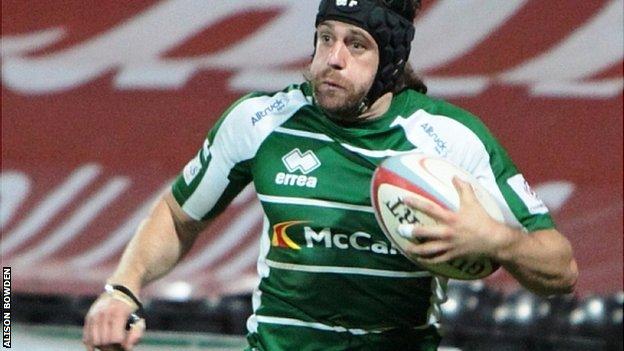 As a six-year-old who first got into rugby because he could "dive around in the mud", record-breaking Nottingham back David Jackson never envisaged making a living from the sport.
And following that training-ground trip with his rugby-mad father Peter, the mud-loving youngster certainly did not anticipate still playing for the same club 24 years later.
But Jackson junior's journey to becoming his hometown team's all-time league record appearance maker has been rewarding, enjoyable and memorable.
Along the way, the pacy full-back or winger has found time for five years of studying for a degree, worked as a science teacher, found fleeting fame for a mullet haircut and made the transition from part-time to full-time professional sport.
But 269 league matches later the professionalism Jackson now encounters plying his trade in the second tier of English rugby and chasing the promised land of the Premiership is a far cry from his early recollections of representing the Green & Whites.
"I remember being on a bus going to an away game and you got given a bag with a cob with copious amounts of butter in it, a pack of crisps and a Mars Bar and that was your pre-match meal," Jackson explained.
"I was eating a chocolate bar in the changing room before a game once and I didn't know any different. When one of the coaches told me I shouldn't be doing that, I said 'why not?'
"I scored a try after about five minutes so thought it must be doing me some good."
Thankfully times have changed, and since making his debut as an 18-year-old blood replacement against Newbury in 2001, Jackson has played a huge part as Nottingham have established themselves in the Championship.
Crisps, chocolate and a seemingly relaxed pre-match attitude towards preparation have been replaced by meticulous planning, a "scientific approach to the analysis", gruelling weights sessions and a proper understanding of the value of nutrition.
The versatile back confirms: "We were only semi-pro. The guys were getting match fees, and when I got a car deal I was made up even though I was not on a professional contract.
"I never thought at a young age I could make a living out of rugby or that I would be good enough to make a living out of it.
"But I have been lucky that the club have progressed and I have progressed on that journey and seen all those changes. If you are with a club you will rack up the games if you are fit and playing."
Jackson was born in Enfield but his family moved to the East Midlands when he was just six months old and he has always stayed close by.
Even his five years at university - where he studied for a degree in materials and engineering - were only down the road at Loughborough.
"I wanted to stay close by so I could get back easily and still play for Nottingham," he adds.
Unsurprisingly the teaching career that followed his Masters degree was also pretty close to home.
When he started splitting his time between the changing room and the classroom it was at Trinity School in Aspley.
His year in teaching was "enjoyable, challenging but rewarding".
"It's particularly tough at the start of your career but wonderful to see the kids improving and the impact you are having on their lives," he said.
But when the chance to play full-time rugby came up in 2008, Jackson "jumped at it".
"The teaching was good, but I can always go back to it when the rugby has finished," he said. "Rugby has a limited lifetime and I thought if I didn't take the opportunity I would regret it. It was a chance to do something people would dream of.
"When I was teaching, it was almost like two full-time jobs. Playing in the Championship was very difficult. I had to be very organised and effective with my time.
"My time was either at school or training, and if I was home I was either sleeping, marking or planning, and my missus wasn't very happy. I didn't wash many pots that year."
His girlfriend was also not too happy about his famed mullet haircut when he first had it done. He finally binned the distinctive look last November because it had "got beyond ridiculous".
"My hair just got really long and for a laugh when my girlfriend cut it she left it long at the back and it was only going to be for a day," Jackson explained. "I had it for nearly two years!
"I ended up going on a TV show because of it, but in the end it got too big in all ways so it had to go."
The 30-year-old has also had opportunities to leave and play in the Premiership but it has never really appealed.
"A couple of years ago I had a good season and there was a bit of interest," Jackson said. "But Glenn Delaney - who was in charge at the time - wanted to keep me and I was more than happy to stay. I will get much more satisfaction from helping Nottingham get into the Premiership than moving on."
The only other team to feature in Jackson's career is Ilkeston Rugby Club.
He was part of the coaching set-up with another Nottingham legend Craig Hammond. But the Kiwi left for Hong Kong in the summer and Jackson has taken over as head coach.
The change has worked with Ilkeston winning six of their seven fixtures and topping the table in Midlands One East.
However, his main rugby focus remains with the Green & Whites.
Record appearances and a long list of player awards are all well and good. But Jackson desperately wants silverware to add to the one solitary promotion with the club.
This season has seen a new head coach in Martin Haag, something Jackson described as "refreshing".
"Everyone has to prove themselves again and is fighting for their position because Martin has looked at us on face value," Jackson added.
"Playing in the Premiership is the dream. We've made huge steps and the next logical step is promotion.
"That is quite a big jump. But we are working hard on and off the field to make that a reality.
"What would be the point in being here if we didn't aspire to reach the Premiership?
"If we could that would certainly be the highlight of my time here. But we have had lots of good times and I cherish those."