Bill Beaumont says Premiership TV deal 'could breach contract'
Last updated on .From the section Rugby Union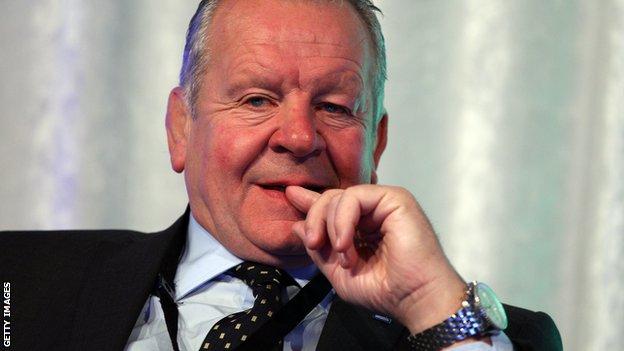 Premiership clubs could be in breach of contract with the Rugby Football Union by agreeing a television deal with BT, says RFU chairman Bill Beaumont.
Premier Rugby says it did not need the RFU's consent to make the deal.
"I am advised there could well have been a breach in the contract [with the RFU]," said the former England captain.
"We have got to try and get on and reach an amicable settlement which suits all parties.
"Let's keep the door open, let's not take sides."
International Rugby Board (IRB) regulations state that no body has the jurisdiction to sell broadcasting rights without the express permission of their union.
Premiership Rugby was not given consent by the RFU but claims it had the authority to act independently under the terms of an agreement struck in November 2007.
However, Martyn Thomas, who was RFU chairman when the agreement was signed in 2007, told BBC Sport that clubs could be in breach of contract if they implement the breakaway plan.
A spokesman for Premier Rugby told BBC Sport he "did not recognise" the clause in the 2007 agreement that was being referred to.
Under the new deal, BT will have exclusive live broadcast rights to Aviva Premiership Rugby and the JP Morgan Asset Management Sevens from the 2013-14 season.
From the following season it will also have exclusive rights to matches played by Premiership clubs in any future European competitions for three years.
In June, Premiership Rugby gave notice of its intention to pull out of the Heineken Cup and Amlin Challenge Cup amid disagreements over how the competitions are organised.