Olly Barkley: Bath chief executive surprised by Racing move
Last updated on .From the section Rugby Union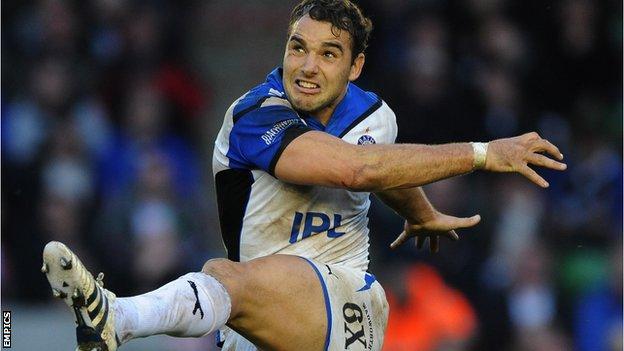 Bath chief executive Nick Blofeld has admitted he was surprised by Olly Barkley's decision to join Top 14 side Racing Metro.
Fly-half Barkley, 30, will make his move to Paris at the end of the month, bringing to an end his 11-year association with the Premiership club.
"It was quite a bolt out of the blue," Blofeld told BBC Radio Bristol. "We only became aware of it a few days ago.
"We're very sad to see him go but we weren't going to stand in his way."
Barkley, who has 23 England caps, will join Racing as a 'medical joker' - cover for an injured player - which is the only way French clubs are allowed to acquire new signings at this stage of the season.
"A series of unfortunate events at Racing have opened up that opportunity and he's very keen to take it," continued Blofeld.
"They have lost three fly-halves and they're looking for a kicking fly-half. They thought they could lure him over there and they have."
Blofeld moved quickly to deny suggestions that Barkley's sudden departure was connected to the player's fractured relationship with coach Mike Ford.
The pair were reported to have fallen out during Ford's time as England's defence coach, but it is understood they held clear-the-air talks when Ford was appointed on Gary Gold's coaching team at Bath over the summer.
"There's no clash at all," insisted Blofeld. "They had history in the past but that was all forgotten a long time ago. It's water under the bridge."
Barkley made his Bath debut in 2001 and spent seven years with the club before joining West Country rivals Gloucester.
But the move to Kingsholm was not a success and he returned to the Rec after just one season.
And Blofeld says the club would be willing to welcome him back again, should he want to return from France.
"He's Bath through and through and he loved it here. He still loves it here and he's quite emotional about making the change.
"It will be a wrench for him to leave but I'm sure he'll settle in quickly and he'll be welcome back any time."
Barkley - who has accumulated 48 points in three Premiership matches this season - will be available to face London Irish on Saturday, with his final game coming at home to Sale.
"I'm in the last year of my contract and if I passed up this opportunity now then I may never get another chance," Barkley said.
"I only had two or three days to make the decision. My heart was telling me I shouldn't go and I should finish the year but I needed to decide what was right for me.
"My head ruled over my heart which is something that never usually happens."