Jersey: Sacked Charlie Clyde-Smith regrets actions
By Brent Pilnick
BBC South West Sport
Last updated on .From the section Rugby Union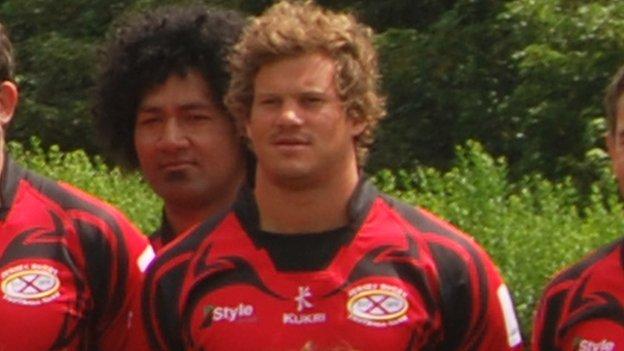 Jersey forward Charlie Clyde-Smith says he regrets breaking a drinking ban which led to the 22-year-old being sacked by the Championship club.
"In a way I deserved it as I went behind their back and had a couple of beers when we did have a drinking ban," Clyde-Smith told BBC South West Sport.
"At the time I didn't think what I'd done was worthy of getting sacked, but I can understand why they did it."
He added: "We're in the professional era now, and we're public property as we're very well known in the island, so whatever you do spreads rapidly around and everyone knows, so I do regret it."
Clyde-Smith broke the team's curfew in the week leading up to their opening Championship match against Cornish Pirates, having started their two pre-season friendlies against Leicester and Loughborough Students.
"I'd done a couple of things before,"he said. "Not massive things, but maybe a year ago in National One or Two they wouldn't have batted an eyelid, but we're in the Championship now and you can't make those mistakes."
And he is saddened at the loss of a chance to impress for his home club, having given up a place at university to take up the chance to play rugby professionally for the island.
"It's massively frustrating, I played for Jersey for my whole childhood, I played in the academy and spent the past four years in the senior side," Clyde-Smith added.
"I had a position at Loughborough University to go to and I cancelled that to play for the island side, so I've given a lot of time and effort and so have my parents and family.
"I was as fit as I could possibly be from pre-season and was on the top of my game, so when I got told the news I was devastated, it was a massive shock."
But despite being sacked, Clyde-Smith says he bears no grudge against director of rugby Ben Harvey or the club and hopes that one day he will be able to return to St Peter a better and wiser player.
"I spoke to Ben Harvey who told me he'd happily give me a good reference, we've got a good relationship and he is a good coach.
"Hopefully we can look back on this as the point where I changed and if I come back to Jersey I won't make any mistakes.
"The mistakes I made were small ones and hopefully if I do come back we can look back on it and laugh."
As for his new challenge in Italy, Clyde-Smith says he wants to help the side be promoted from Serie B to Serie A.
"They've got a great set-up, a really good youth system and good financial backing," he commented.
"They're bringing players from around the world and are quite ambitious and want to get up into Serie A.
"I want to sit down with the coach and see how many games we have to win to get promoted, that's my goal and that's their goal."