Plans for second Jersey rugby team in English league
Last updated on .From the section Rugby Union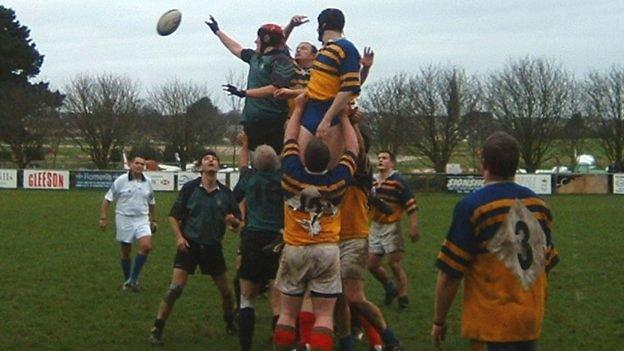 Jersey's Rugby Association are applying to the RFU to set up a new team to play in the English league.
The JRA's director of rugby Dai Burton says the new team would play in the Hampshire League and be made up from the clubs that play on Sundays.
Burton says there are fewer chances for people to play after the success of Jersey's first team.
"It's pushed the first team away from the youngsters and we have to fill that gap," he told BBC Radio Jersey.
"It's in the early stages but it's been identified that the success of the first team has made a larger gap between the first team and any possibility of Jersey boys playing league rugby," Burton explained.
The JRA have been in contact with the RFU and been told they would have to pay both for teams coming to the island and their own trips to the UK - a projected annual cost of around £60,000 - £70,000.
But Burton believes it is a cost that needs to be borne.
"That's the only way we can see now young Jersey boys, or guys coming to the island to live, get some serious rugby.
"We have to have some kind of carrot for all local players to play at the highest level they can."
The team would aim to play at Jersey Rugby Club when the first XV, who play in the Championship, were off the island, and Burton does not believe it would impact on the local league.
"We would select players from each club on a monthly basis, so you'd play on a Saturday and you could play for your club on a Sunday.
"When I was young I used to play three games in a weekend, so there's nothing to say they can't play for the JRA team on a Saturday and their club on a Sunday.
"It would mean each club on the island will have some kind of link to this side."