Sir Clive Woodward wants Rio 2016 Sevens bid to start in 2014
Last updated on .From the section Rugby Union15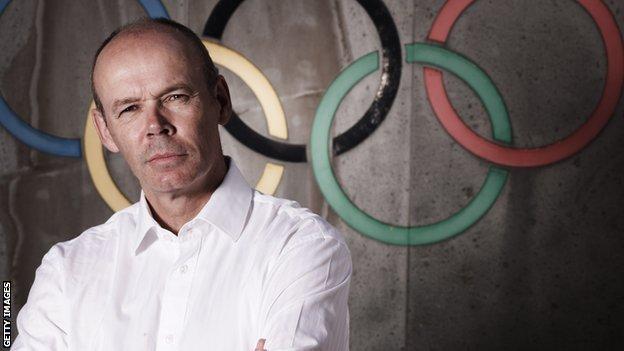 Sir Clive Woodward wants Team GB's Rio 2016 Olympics Sevens players from Wales, England and Scotland to begin playing together in 2014.
The proposal would mean players missing regular club and Test action on the International Rugby Board Sevens scene.
"There has to be some real, up-front discussions now about how it's going to work," said the British Olympic Association's director of sport.
Rugby sevens will make its Olympic bow as a new sport in Brazil in 2016.
If Ireland field a men's Sevens team in Rio, players from Northern Ireland are expected to continue with the tradition of appearing for the combined Irish team.
The 2012-13 IRB Sevens series starts on the weekend of 13-14 October, 2012 and ends on 11-12 May, 2013 with England, Wales and Scotland competing.
That pattern of dates has evolved since the inaugural 1999-2000 tournament won by New Zealand and is repeated annually.
Wales have used the Sevens series to help players develop because of the clash of fixtures with the 15-a-side's version of the sport taking priority at regional and national level.
Player availability for Test rugby have been the flashpoints for club versus country rows in the northern hemisphere.
But in recent years, the Welsh and English governing bodies have negotiated player-release deals with their professional teams.
However, demands for Olympics Sevens contenders to be freed for Team GB could prove problematic with Woodward having pinpointed Wales' George North (Scarlets) and Alex Cuthbert (Cardiff Blues) as players he would pick for Rio.
Woodward wants those players who harbour Olympic gold among their ambitions to prove themselves ahead of the Rio Games, which starts on 2 October, 2016.
He told the Sport Wales programme: "You'd like to think that Team GB will be on that circuit at least two years before Rio so they give them a real chance, so players can come in and out.
"So you can be selected, but that's not the end of the deal. You can be dropped and other players brought in.
"But you need Team GB playing out there at least two years out from Rio so to give the coach and the players a realistic chance.
"Because as a player, all you want to be given is a fair chance."
He also admits the experience of football under the Great Britain banner at the 2012 Games in London was not easy.
The Welsh and Scottish football governing bodies objected to the concept, but Welshmen Ryan Giggs, Craig Bellamy and Aaron Ramsey played for Team GB.
Woodward said: "When I was in New Zealand for the Rugby World Cup last year and I was meeting the New Zealand officials - the NZ programme is already running - now it's easy for them.
"It's like Wales did it, or England did it - you just sort it out.
"When you try and bring the four countries together there's a lot of challenges.
"But the meetings that have taken place, there are meetings taking place, it seems to be moving forward positively. But it's not easy.
"It's not easy because we've seen it in football, we've seen it in hockey to a certain degree where everyone is playing for England and Wales and Scotland and Ireland and then you're trying to get this team together, so there's various hurdles to get across.
"But I think at some stage somebody's got to see the bigger picture and say, you know, the most important thing is that we set the stall about winning.
"And there's absolutely no reason we can't go to Rio in 2016 and win a gold medal in men's rugby and a gold medal in women's rugby."
Woodward led England to the 2003 World Cup and coached the 2005 British and Irish Lions tour to New Zealand, having also played for England and the Lions during his career.
He took the role of director of sport for the British Olympic Association in 2006 and has helped manage Team GB's efforts at Beijing 2008 and London 2012.