Jeremy Guscott Q&A

By Jeremy Guscott
Former England and Lions centre
Last updated on .From the section Rugby Union88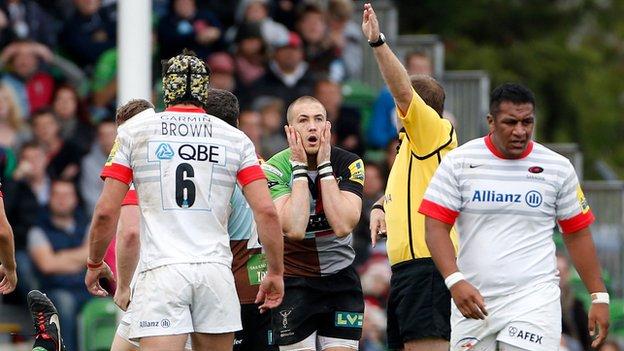 Among the topics Jerry discusses this week are:
- Why Saracens are boring, but also won't care
- Whether Owen Farrell or Toby Flood should play fly-half for England
- If current leaders Ulster will go on to win the Pro12 title
- Whether South Africa can derail New Zealand's serene progress
- Who a young fly-half should study to get his team moving
Jerry answers questions posted on the website at the start of every week - entries are now closed for this Q&A. This week's answers appear below.
Are Saracens the most boring side to ever have graced the Premiership soil? UnitedWonTheTitleIn1992
Why can't Sarries seem to score a try? And if they keep winning does it matter? TheLastKingofEngland
Hi guys, I do find it fairly boring to watch Saracens play their brand of rugby but winning, as they did against Harlequins at the weekend with a last-minute penalty, is so, so important, and Sarries boss Mark McCall and his squad would appear to be happy with how things are going. Their philosophy is to kick, chase, defend, concede fewer tries than most and kick their penalties - and that seems to be as far-reaching a gameplan as Sarries want to have.
It will win games and the occasional one-off big match, but it's certainly not the future of rugby and you just have to look at the best teams in the world recently, and those winning leagues and cups, to see that. New Zealand, Leinster and Harlequins all take a more more creative approach.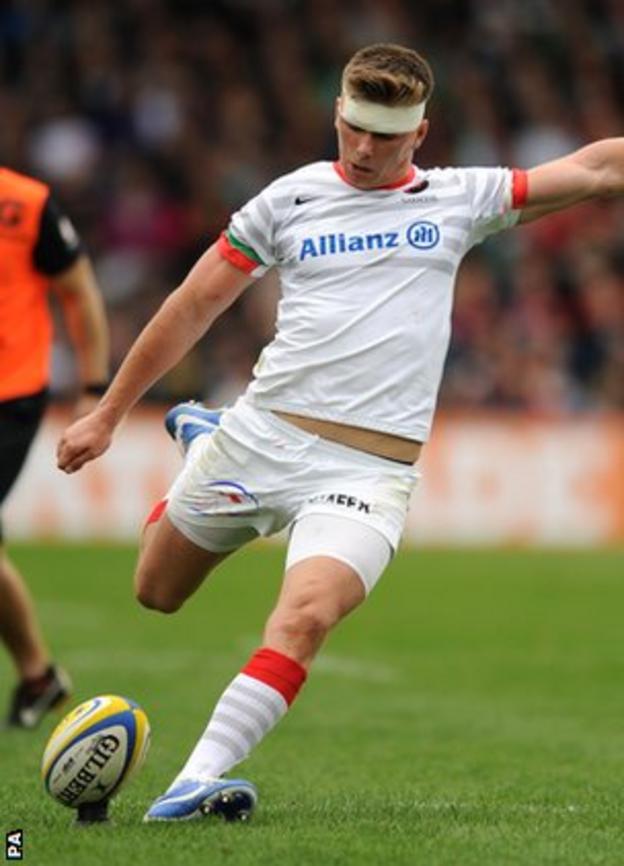 I'm not a fan of Sarries' play. I understand winning is what it's all about but I believe they will suffer in the long run if they don't change and adapt. They need to develop their players in the more creative and attacking direction the game is moving.
Owen Farrell or Toby Flood at 10 for England in the autumn internationals? Saracens are quite frankly playing the most boring rugby known to man, but Farrell brings defensive capabilities that Flood doesn't have. But to beat southern hemisphere teams we need to score tries and Tigers have scored plenty except against Sarries. Thoughts? Rach1985
We have to understand each player's qualities and relate that to the England team and how boss Stuart Lancaster wants them to play. I believe Lancaster and assistant coach Andy Farrell are planning a conservative approach and Farrell Jnr can fit into that gameplan.
Leicester's Flood has the edge on Farrell when it comes to attack but Farrell is ahead defensively and, remarkably for someone so young, he has more composure when it comes to kicking at goal - he was back to form with the boot against Quins on Saturday. However, Flood is ahead on running the game, so at the moment I would go with Flood.
Gloucester have had a decent start, three wins; one draw; one loss. We have a good team and excellent new coach. How far do you think we can go this year? can we keep up with the top four (Quins, Northampton, Sarries, Leicester)? It is a tough ask as they are such strong teams! What do you think? Kingcesc
Hi Kingcesc, Gloucester have a quick talented backline but don't have the pack to compete consistently against Quins, Saints, Tigers and Sarries. That's the predicament Gloucester are in; how they balance that out is down to Nigel Davies. He needs to bolster that pack, once he's done that they will be up there regularly.
Hi Jeremy, having read that Exeter recently bought Premiership shares from Leeds, I was amazed to find that promoted clubs appear to get nowhere near the financial support of the established clubs. Surely the Rugby Football Union or Premier Rugby need to either balance the funding or ringfence the league - they can't continue to try to unofficially ringfence it financially. Thanks, Jamie. jamiexv
Hi Jamie, it does sound a bit unfair but all that was established way back when, and it is what it is. I agree the Premiership need to look at levelling the playing field for promoted clubs so they at least start with the same funding. It seems fair to put it as part of the promotion criteria that the team promoted has to buy those shares automatically and if they can't, they shouldn't be promoted.
Hi Mr Guscott, George Ford, should he move on from Leicester? I think the lad has a real chance of being England's future number 10 but if he is only limited to an appearance now and then for Leicester, surely he is better off moving and getting more game time as the fly-half elsewhere. What's your view? Bath_BTGOG
Hi, the decision is totally George Ford's and currently he appears to be happy learning his trade at Tigers. He should know the time to move on is if he feels he isn't getting a fair shot at competing with Toby Flood for the 10 shirt.
Because of his size (he's 5ft 9in and weighs less than 13 stone) he needs a decent pack in front of him so he doesn't spend a lot of the game defending. Northampton have a strong pack and that looks the best fit for him if he moves, but if it was known he was looking for a change, I'm sure a lot of teams would be interested in his services.
His big test will be if he can perform consistently when playing regularly at Premiership and European level - all the signs suggest he will do well.
Hi Jerry, you don't seem to have much faith in London Welsh, even though they have had good results recently. So you still think they will go down? And if so, why? Aaron Paul
Hi Paul, London Welsh had little time to prepare for life in the Premiership and with the league being so competitive I believed they would be relegated. I haven't changed my mind despite Welsh winning a couple of games because I don't believe they have the depth in quality of players other teams do. I don't write this wanting London Welsh to be relegated, but it's my expectation that they will be.
Hi Jeremy, after Ulster's superb performance on Friday, a fitting tribute to the late Nevin Spence, do you think they are now ready to seriously challenge for the Pro12 title? Rob
Hi Rob, Ulster are a good side, as they proved last season by reaching the Heineken Cup final. They only finished sixth in the Pro12 league but I guess the Heineken Cup took over as their priority.
It's hard for a team to compete on all fronts, but they will have their priorities and not having to worry too much about qualifying for the Heineken Cup via the Pro12 means the league probably takes second place behind doing well in Europe. They've given themselves a great chance of winning the Pro 12 with the fine start they've made and I would expect them to challenge for honours.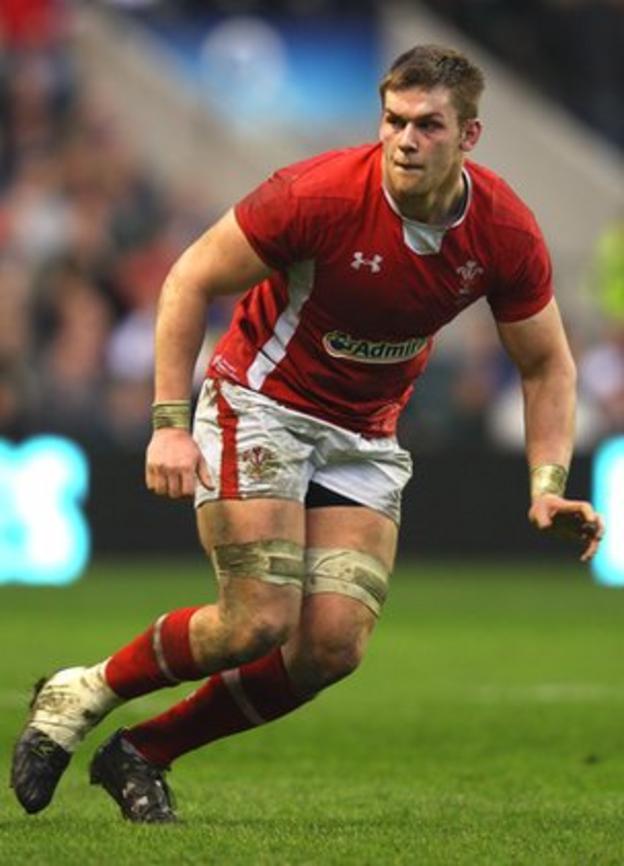 Injured blind-side Dan Lydiate is by far the best in his position. I think it's a huge loss for Wales - do you agree? ChubbyPandas
Lydiate will be missed without doubt. He reminds me a lot of Richard Hill, the England World Cup winner.
Hi Jerry, after watching two truly awful performances this weekend from the Blues and Leinster (both quarter-finalists in last year's Heineken Cup) we can't really blame England and France for wanting changes in the Heineken. The RaboDirect Pro12 is an absolute joke! No wonder attendances aren't great, it's being treated like a glorified training session by some teams. Dave Morgan
Hi Dave, I believe the Pro12 teams have an opportunity to play the game as the Super XV do but haven't realised it yet; the sooner they do, the better the performances will be. I accept the weather conditions are different but not for the entire season.
The Pro12 at the moment has the better players compared to the English Premiership in terms of possible Lions, but the brand of rugby isn't commensurate with the superior ability. It needs the top players playing more regularly and the teams' attitude has to be to produce an enviable product that will have the supporters wanting to watch.
Hello Jeremy, how do you fancy Edinburgh Rugby and/or Glasgow Warriors' chances in the Heineken Cup this year? 07015678
Hi, it's a tough ask for both teams given the strength of their groups. They wouldn't be many people's favourites in either group but Edinburgh and Glasgow are used to being underdogs and will give it a good go.
Hi Jeremy, ahead of what looks to be shaping up as an epic encounter between the All Blacks and South Africa on Saturday, do you believe that the ABs have stepped up another gear? How do you feel the northern hemisphere teams are going to cope with the explosive and technical play from the ABs in November? Regards, Mark. Mark McKinnon
Hi Mark, I've said many times in this Q&A that New Zealand are a level ahead of the rest, but South Africa are probably the only team in the world that could out-muscle them up front and cause them problems. I don't really expect the All Blacks to have any problem beating the home union teams, unless star fly-half Dan Carter isn't fit to play.
Hello Jeremy, I play fly-half for my rugby team and I never seem to be able to get my backline moving really well, any tips? Also, our forwards never seem to be able to secure the ball at rucks, any tips for them! Thanks, Tom. TomHunter
Hi Tom, for you I would suggest watching the best 10 in the world, the aforementioned Dan Carter. Look how he positions himself to receive the ball, and how he runs the game through his passing and kicking. His decision-making is also of the highest order. Doing the right thing at the right time - when to kick, when to pass - is key for a fly-half.
Have your forwards watch the ABs as well. They aren't the biggest but they have adopted a gameplan that means they use their strengths - speed, skill and superior technique.