Launceston: Cliff Rainford wants improved discipline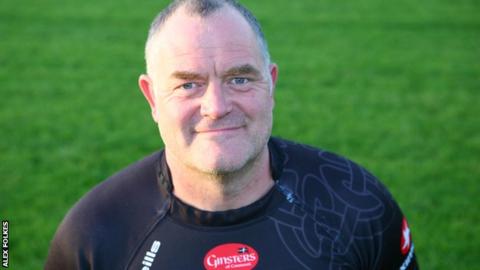 Launceston head coach Cliff Rainford has admitted he is concerned about the conduct of his players on the pitch.
All-Blacks captain Tom Rawlings criticised his side's poor discipline in the wake of their 29-13 defeat against Shelford last weekend.
"Discipline is something we are constantly looking at," Rainford told BBC Radio Cornwall.
"We didn't have one of the best records last year and that was one of the things I was looking at."
He continued: "If there's a problem with your scrum, your line-out or how your backs are playing, you can address that on the training pitch.
"But when it comes to discipline, that's very difficult. You can only speak to your players and try to instil in them that there's one voice on the pitch, and that's the captain."
Launceston travel to National League Two South leaders Henley this weekend, hoping to end the Hawks 100% record so far this season.
And Rainford feels the Cornish side, who only have one win from their opening five matches, will be able to take heart in their performances from last season against Saturday's opponents.
"It's a difficult one, it's a long journey away," said Rainford.
"But we beat them at home last year and lost to them away, so it's not beyond comprehension we can win there.
"We performed very well against Hartpury who are up there. So if we take good things from that game into the Henley match, we could go well."