Liam Middleton expects Bristol to recover after poor start
Last updated on .From the section Rugby Union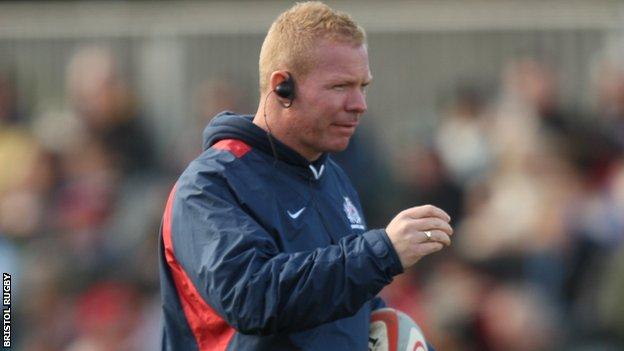 Bristol coach Liam Middleton is unconcerned by his side's poor start to the season and believes they will turn their form around.
After losing in the Championship play-off semi-finals last year, Bristol have won two of their first five matches of 2012-13, with a squad hit by injuries.
"We're actually playing some decent rugby but we're not winning games," Middleton told BBC Radio Bristol.
"I'm not hugely concerned about that as I think our processes are right."
After a 50-31 loss away at Leeds, a result which the Zimbabwean called "a wake-up call", Bristol lost for the second time in a week when they were beaten 22-21 by Moseley at the Memorial Stadium on Friday.
However, with a number of key players beginning to return from injuries, Middleton believes they can still have a successful campaign.
"The key thing is just to keep the spirits high as it's a long season and there's a lot of rugby to be played," he added.
"I think we'll turn a corner and this group will push on. The work that's going on behind the scenes will come to the fore at some point.
"I'm hugely driven to succeed and hugely drive to win, that is what I live for.
"I work long hours at this club to make sure we are in the best position to win, but sometimes that doesn't happen for various reasons."