Seven-figure 're-financing' prompted Cuddy Ospreys exit
Last updated on .From the section Rugby Union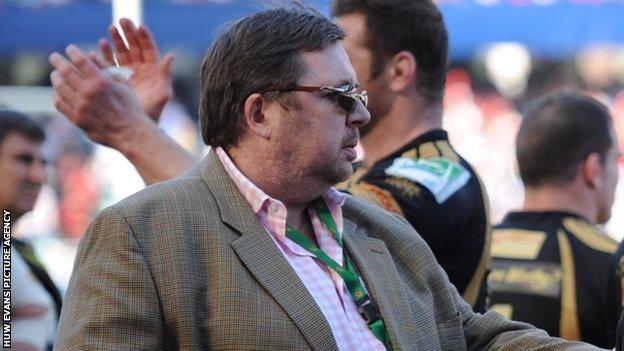 Mike Cuddy says he quit as joint Ospreys managing director after "an injection of a seven-figure sum" into the region.
The region's financial problems and instability stopped Cuddy leaving the role at the end of the 2011-12 season.
In May the Welsh region faced a High Court winding-up petition over an outstanding tax debt and the case was dismissed in July.
"We've done some re-financing," said businessman Cuddy.
"And we've had an injection of a seven-figure sum, which has put the Ospreys on a good financial position.
"And that happened last Friday [28 September, 2012]."
Like the rest of the Welsh regions, the Ospreys are now operating under a self-imposed £3.5m salary cap.
However, he admits that while attendances at the Liberty Stadium have shown an improvement this season, he warns that they are still not attracting sufficient numbers through the turnstiles.
"It's just Wales. They've [Ospreys gates] increased this year, but still not enough," said Cuddy.
Cuddy admits he would have preferred to leave his role after the Ospreys won the 2011-12 Pro12 title in dramatic fashion against Heineken Cup champions Leinster in Dublin.
He added: "This [resigning] is something I've been thinking of doing for quite some time.
"The end of last season would have been the best time to do it, but with the financial problems and instability that we had here at the Ospreys, I felt obliged to stay on and make sure that they were put to bed before I did this."
However, Cuddy will remain as a director and shareholder.
He added: "I've had 10 wonderful years. I'm continuing to be a director… a shareholder… and as a sponsor.
"I'm not continuing as managing director, taking phone calls about buying five rugby balls and things like that every minute of every day."
Cuddy was instrumental in helping form the region in 2003 as Wales' old club system was revolutionised.
He brought Neath into a partnership with Swansea to form the Ospreys.