Jonathan Davies backs Mike Cuddy's WRU cash call for regions
Last updated on .From the section Rugby Union16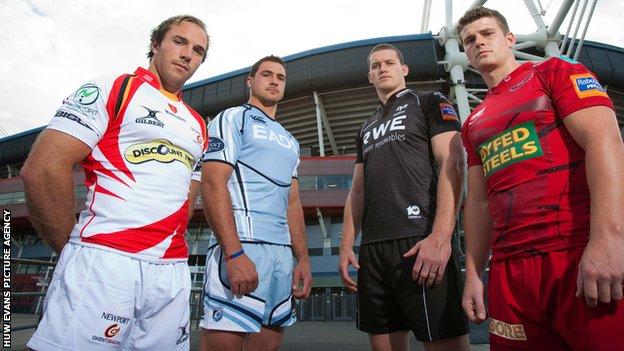 Former Wales fly-half Jonathan Davies has echoed ex-Ospreys chief Mike Cuddy's call for the Welsh Rugby Union to give more cash to the four regions.
He backed former Newport moneyman Tony Brown's belief that the regions are suffering while the Union prospers.
Pundit Davies agreed, telling Scrum V: "If there is money there, more money should go to the regions."
Former Neath, Llanelli and Wales fly-half Davies also became a star in rugby league with Widnes, Warrington, Wales and Great Britain before returning to union with Cardiff.
The Welsh domestic game has been transformed since Davies' career ended in 1997, with a five-team regional structure being formed in 2003.
The Celtic Warriors were disbanded in 2004 because of funding issues, with the remaining four regions - Cardiff Blues, Ospreys, Scarlets and Newport Gwent Dragons - now taking £2m each annually via the WRU from the televised tournaments in which they play.
The WRU tops that up with a further £1.5m each from its own coffers for a yearly £3.5m total. That funding total this season is reduced after the regions imposed a salary cap on themselves.
Davies said: "They've [WRU] got record profits and I hope it's not an ego thing within the WRU to say 'yes, we're doing all these good things'.
"And if that is the case, then well done to them.
"But then the lifeblood is the grassroots, the schools element as well, but also the regions.
"So if there is money there, more money should go to the regions.
"And then they [the regions] can decide what to do with it and who to keep and who to bring through."
While the WRU has announced its record turnover, Welsh rugby's governing body is still £19m in debt from the construction of the Millennium Stadium, which was built for the 1999 World Cup.
WRU group chief executive Roger Lewis has previously defended the level of funding given to the regions.
"It's got to be teamwork; it took us at the Welsh Rugby Union five years to get it right," Lewis has said.
"It's going to take a number of years to get it right at the regions but we are working together to get that right.
"There are legal agreements in place, we signed a participation agreement with the four regions only in 2009 and that gave them a clear horizon of some £80m of money between 2009 and 2014, based on the £6m-plus a year we give the regions in cash for the release of players.
"Then about the £9m that's released each year from the various competitions the regions play in... then you add into that the support we give: we fund and resource and staff the regional academies.
"We have been working hard with the people who are at the sharp end of regional rugby and we're coming up to something that I think will hopefully give us a sense of future there."
The WRU and the four Welsh regions' financial review by accountants PricewaterhouseCoopers of professional rugby has been completed.
An announcement on the report's findings is expected in the coming weeks.
Former Pontypridd, Cardiff, Cardiff Blues, Wales and British & Irish Lions flanker Martyn Williams hopes the regions can enjoy future success.
He believes the regional structure has helped Wales win Grand Slams in 2005, 2008 and 2012, but he wants Wales' regions to also make a mark, particularly in the Heineken Cup.
Williams, who retired on 100 Wales caps in June, 2012, said: "It's been 10 years since the regions were set up and it's worked for the national side with three Grand Slams.
"But it hasn't quite come off yet for the regions in Europe and I think once one of those regional sides is successful in Europe, wins a Heineken Cup, then hopefully the snowball effect will happen.
"We've probably lost a generation of supporters who are not going to go away from their clubs.
"But they're hugely important, the clubs. They're still churning out top-quality players - the regions are still picking up players from them so they are vastly important.
"I think it's important the regions embrace the clubs as well and work a little bit more closely, hopefully, over the next couple of years."
In recent seasons the regions have lost many Welsh and non-Welsh players to French and English clubs.
France-based Grand Slam and 2011 World Cup stars James Hook, Mike Phillips, Gethin Jenkins, Lee Byrne and Luke Charteris are among those to have left amid the financial constraints.