Test stars will find it hard to play Olympic sevens - England coach
Last updated on .From the section Rugby Union36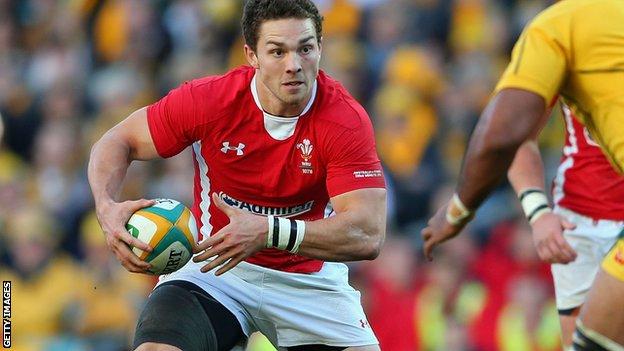 England Sevens coach Ben Ryan has played down Sir Clive Woodward's suggestion that Test stars such as Wales' George North could be drafted in to help Great Britain win Olympic gold.
But Ryan believes different fitness levels and issues around integrating 15-a-side players means it is unlikely.
"It would be a really hard ask for them to come in," Ryan told Radio 5 live.
"As far as the way our leagues are set up in the UK and how the game is played and structured, it has taken our players a long time to get to the conditioning levels you want.
"You never say never because there may be somebody that has played sevens in the past and is above everyone else's fitness levels in the Premiership or international rugby and they really want to give it a go.
"But for the general population that are playing 15s at club or international level, it would be really hard. That is backed up by our fitness statistics, which are a level above first XVs.
"That is not because we are saying we are better athletes, but that is what our game is about. They have to be fitter and faster, and they are."
Woodward, who led England to 2003 World Cup glory in the 15-a-side game and last week left his position as director of sport for the British Olympic Association, wants players from England, Scotland and Wales - the reigning Sevens World Cup champions - to start playing together as GB from 2014 on the World Sevens Series circuit.
While discussions continue between the English, Welsh and Scottish Rugby Unions about how the integration process might be achieved, Ryan says any debate about the composition of the GB team for Rio is redundant until qualification is secured.
"What we do know is the IRB [International Rugby Board] are putting together a qualifying process and it is very important to remember that if we don't get the qualification right in two years' time, then there will be no GB side in Rio," he said.
"That qualifying will start two years out from the Olympics and that is also a World Cup season [ending in the 15-a-side World Cup in England in 2015] so you can't imagine too many teams are going to be dropping in 15-a-side internationals for that qualifying period.
"The likelihood is that if England, Scotland and Wales win the World Series or we fill one of the top four spots in the World Series, that will gain GB automatic entry.
"We [England] are the only team in the home nations that has hit the top four in the last few years. (England have finished third for the past two years).
"So we are a likely candidate to be a very important vehicle for GB to get to the Olympic Games. After that point is perhaps when you might start to think about how the GB team gets put together."
In reality Ryan believes his England squad, which now has 19 full-time sevens specialists, will be "ahead of the curve" for Olympic selection having spent several years honing their skills on the IRB's World Sevens Series, which begins again this weekend on Australia's Gold Coast.
"If England in one or two years' time are not the number one team in the world, and are not knocking over New Zealand and the other top sides on a regular basis, and a combination of England, Wales and Scotland can't do that, then it would be naive not to think you have got to then look outside your group," he added.
"But we think we are going to be knocking over these teams, so therefore why change that group of players? They will fight their corner and want to show they are a better sevens player than anybody coming in.
"I can also speak on behalf of Paul John, the Wales Sevens coach. He has got a cracking group of players and like us they are working really hard to be better than anyone else who is going to put their hand up."