No Exeter players 'guaranteed' Leinster start - Baxter
Last updated on .From the section Rugby Union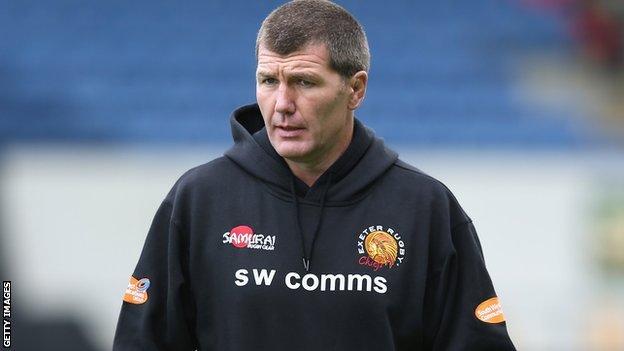 Exeter boss Rob Baxter says no player is guaranteed a place in his starting line-up for Leinster after Saturday's
Baxter gave a debut to while Ben White and Simon Alcott made their first starts of the season.
"I don't think there are any guys who can probably consider being guaranteed players," Baxter told BBC Radio Devon.
"We've got a stronger squad and a lot of guys up and running," he added.
The Chiefs face the reigning Heineken Cup champions in Dublin in their first ever match in the competition this weekend.
Baxter says he faces an interesting dilemma when he decides who will start in the historic match as a number of his newer faces come to the fore.
"We used our last two 'A' games really well and I think it shows you that it's about having faith with the guys who are on form," he continued.
"It's about you making the best use of your squad right across the board.
"We didn't leave out guys because we thought they were out of form, but we had a group of players underneath them who are playing really well.
"We've probably got a bit more quality and depth than we give the players credit for, and perhaps we've got to rotate things a bit more at times," he added.