Gloucester will not expand Kingsholm for 2015 World Cup
Last updated on .From the section Rugby Union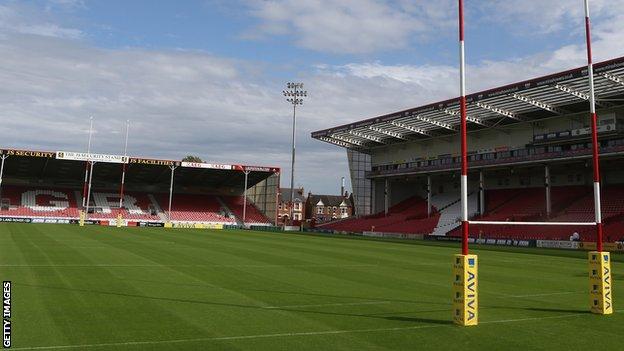 Gloucester have no plans to expand their ground in an attempt to improve their chances of hosting games at the 2015 Rugby World Cup.
Kingsholm is one of 17 venues on the shortlist for the tournament.
Managing director Chris Ferguson told BBC Gloucestershire the club would not need "to make capital investment" to make the final list of 12 stadia.
He continued: "The ground as it stands hold 16,000 and we have the facilities and infrastructure to match that."
Kingsholm, which underwent redevelopment at the executive box end of the ground in preparation for the 1991 World Cup. is the only club rugby stadium included on the initial shortlist, which will be reduced early next year.
Leicester's Welford Road - the largest English club ground - was left off the shortlist and just three of the 17 are rugby venues, Kingsholm, the Millennium Stadium in Cardiff and Twickenham.
As the Cherry and Whites' stadium is the smallest on the list, Ferguson says the club must be realistic about the games they might host if they are successful in their bid.
"If we do get games, I imagine it will be the lesser rugby nations playing here because we haven't got the capacity," he said.
"We have to contain our expectations but I do think the crowd here are very knowledgeable and are the optimum crowd to come and watch those nations trying to compete for the top honours."
But Ferguson insisted they would welcome any part in hosting the tournament: "We want to look back in 50 years time and have these pictures on our walls and say: 'that's when we hosted the World Cup'.
"Those milestones are really important in the club's history.
"We've been working up to this point as it's something we've been wanting for a long time."