Jeremy Guscott Q&A

By Jeremy Guscott
Former England and Lions centre
Last updated on .From the section Rugby Union47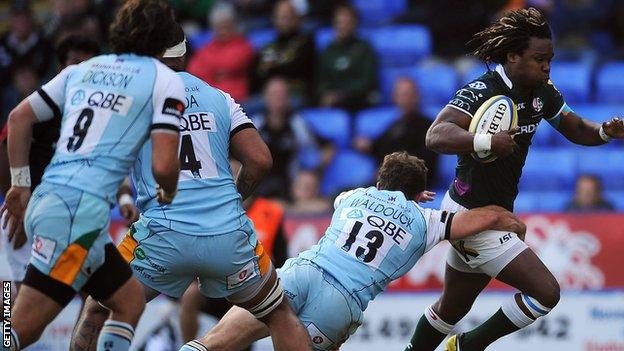 Among the topics Jerry discusses this week are:
- Exeter stunning English champions Harlequins
- World champions New Zealand winning their 16th Test in a row
- Potential picks for the Lions tour to Australia
Jerry answers questions posted on the website at the start of every week - entries are now closed for this Q&A. This week's answers appear below.
Hi Jeremy, with Northampton Saints capitulating against London Irish, every side in the Premiership has lost a game. The league looks well balanced, with no real standout side at the top. What are your thoughts on the Premiership? Who has impressed you? Who is going to win the title? And will London Welsh survive? (Supersaint94)
With nearly a third of the matches played the top four places are not unexpected - Saints, Quins, Tigers and Saracens. It is a surprise to me that Sale are bottom, but given their performances not a total shock.
It's an early shout but I believe the current top four will still be there when the knockout stages begin. It's going to be difficult for one side to totally dominate because none of the squads are packed with internationals.
Exeter Chiefs continue to impress because, as a team, they always appear to do more than expected. I still believe Welsh will go down.
Hi Jeremy, while watching Saracens against London Welsh I noticed how Sarries created opportunities but just didn't finish them. They take the points whenever they can - I don't think they play as unattractively as people seem to think. They are efficient, hence why they win games - so why do people believe they play boring rugby?(Harry Lock)
Hi Harry, quite simply Sarries have only scored six tries and that's almost half the amount of any other top six team. They've conceded the least amount of tries and have probably kicked the most penalties.
A good attacking team would have converted the opportunities you say they have created. Sarries could be described as efficient but they are by no means an exciting team to watch.
It's the winning that counts and I'm sure if they win the league for a second time they won't mind being described as unattractive.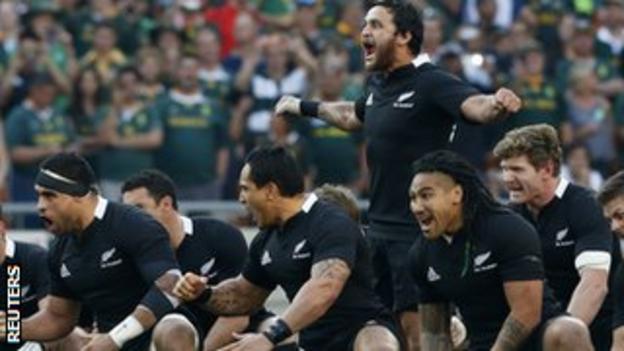 Hi Jeremy, New Zealand have won 16 games in a row and they appear to have improved from a poor World Cup final performance in 2011 to be easily better than Australia and South Africa this year. However they still don't come across as the finished product - improvements on accuracy and error rate stick out. Do you see that as a fair comment, and if so how scary is it if they get better again? (Tavish)
Hi Tavish, I agree. New Zealand are playing some great rugby but the amount of ball they turned over during matches, apart from the away game against Argentina, was poor by their very high standards.
It will be interesting to see how they deal with playing without Richie McCaw next year because he's still having a massive impact in games. Kieran Read seems to be the natural successor so leadership won't be dented, but finding another open-side of McCaw's ability will be a problem.
The team has so much understanding about what they want to achieve in a game, and when that all clicks it will be brilliant to watch.
Hi Jeremy, the use of the television match official by refs was again brought into question this weekend at the Gloucester versus Bath game. The lack of consistency shown by referee Dave Pearson robbed Gloucester of a try and handed Bath a losing bonus point. He checked three other possible tries and I don't understand why he did not check a fourth. As a fan, all I want is consistency from our officials. (thespider26)
Hi, it's going to be a frustrating time for all - players, coaches and supporters. Unfortunately, with anything new, there are going to be teething problems. Whether a ref goes to the TMO is their decision and humans make errors, as seen when the Henry Trinder try was not even referred to the TMO.
I was a bit shocked after reading some comments about Jonny Wilkinson. His standards are consistently world-class, yet people are saying he is past his best and can only score drop-goals. He is a talisman for Toulon - always giving 100% on the field and constantly contributing to attack and defence. I think he would be a great addition to the Lions team, don't you agree? (Maa)
Hi Maa, looking at the possible Lions fly-half you have Ireland's Jonathan Sexton and Wales' Rhys Priestland pretty nailed on for a place unless Priestland continues his summer form at international level.
Then you have the likes of England's Owen Farrell and Toby Flood and any possible newcomer into any home international set-up. We all know what Jonny can bring to a team, but against David Pocock he wouldn't be the answer because he doesn't interest an open-side flanker because he hardly ever attacks the gain line and that would be disastrous for the Lions backs.
He is playing very well for Toulon but he wouldn't be my first or second pick for a Lions squad.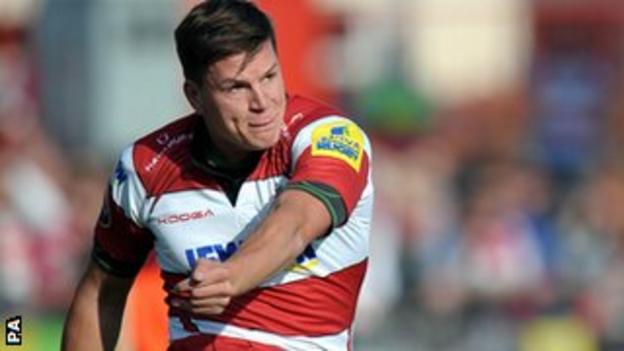 Hi Jerry, Freddie Burns is looking like England's form fly-half. Should Stuart Lancaster give him a first cap against Fiji? Who would you choose to play fly-half against South Africa, Australia and New Zealand? (AMPRugby)
Hi, Freddie Burns is playing well enough to be considered but I don't think he will be selected and that is a shame because he certainly deserves to be training with the best in the country.
Fly-half is such an important position, especially in a developing team, and Burns wouldn't appear to fit the stereotype fly-half Lancaster likes. Lancaster appears to prefer a stand-off that sticks to a game-plan and doesn't do too much off the cuff.
I haven't seen his defensive stats but he's kicking as well as anyone in the league. At this point in the season I would put Burns ahead of Owen Farrell.
Hi Jerry, what's going on at Quins? I've been to every game apart from Exeter and I don't believe we've particularly excelled in any game (SuperLeedsSuperQuins)
Hi, one bad loss doesn't warrant a harsh look at a team that won the first four games of the season playing, in my opinion, some decent rugby. From the highlights I watched, Exeter played some exciting rugby - seriously challenging the Quins, not just up front but out wide as well. Not many teams do that to Quins.
I wouldn't imagine any team in the league would say they have hit their peak but Quins have in general played more consistently than most and should be happy with their league position.
Jerry, after a relatively quiet season with just five tries last year, Ugo Monye has scored four in his first five matches for the Quins this season. Why do you think he is suddenly back in form? And if he keeps it up do you see him playing for England in the near future? (SimonB)
Hi SimonB, I'm always a believer that a player in form should be selected and Monye certainly is - but he's only six games into the season and he needs to continue this good run of form.
Chris Ashton will probably start on one wing with Charlie Sharples, Jonny May, Christian Wade and Monye in contention for the other wing place. There could be any number of reasons why he was not on top form last season, but it's all about here and now.
What would be your perfect Sunday? (Typical_English_No8)
A lay-in with breakfast in bed, a read of the sport and business sections of the paper. That would be followed by a big Sunday roast and drink with friends and families - then probably a little snooze before watching something good on the television, if I hadn't been held up in the pub.
Hey Jezza, would you have played 40 minutes with a ruptured testicle like Paul Wood of Warrington Wolves did in the Super League Grand Final? (Himupnorth)
Hi, as a former back who wasn't at all physical it's fair to say I wouldn't have continued. I think Paul himself gives a very good account of what he was feeling like at the time. Or not maybe?