Matt Scott agrees Edinburgh contract extension
Last updated on .From the section Rugby Union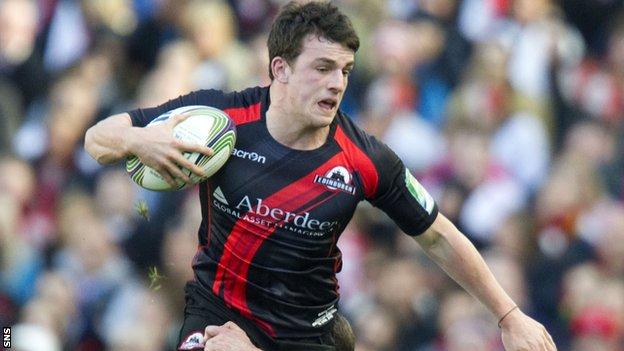 Scotland centre Matt Scott has signed a new deal that will keep him with Edinburgh until the 2015 World Cup.
The 22-year-old earned his first cap as a replacement against Ireland in this year's Six Nations tournament.
And Scott went on to start in the summer tour victories against Australia, Fiji and Samoa.
"Being at Edinburgh, in the eye of the national selectors, is a good place for a guy my age and with my experience to be," Scott told BBC Scotland.
"If I'd had more caps, being elsewhere might have been good for rugby development.
"But, as a young player with not many caps, I think being in your home country and playing at your home club with your international team-mates is a good place to be.
"Obviously, becoming a regular in the Scotland team is a big target of mine.
"And I know I've got a lot of work to do to get there.
"There's good competition kicking about and I've got to work hard at my game to achieve that, but it's all there if I want to do it and work hard."
"It is great to be here at Edinburgh until 2015, just before the next World Cup.
"I'm happy to stay at a club where there's a good group of young players coming through and we've got a captain and a coach that are intent and determined to win trophies.
"As a player, that's what you want to be doing so there's no need for me to be anywhere else at the moment."
Scott signed a two-year contract in January when he was still considered an academy prospect in his final year of university, studying Law.
Now he is regarded as one of Scotland's most promising attacking talents but he is still getting used to the number 13 shirt.
"I played a lot at stand-off growing up and I didn't really have to defend a lot of deception plays, which you're faced with at the centre," he explained.
"So it was all a bit new to me last year and I struggled a wee bit with the consistency of my defence.
"But, having been playing international rugby over the summer, I think I've learned a lot there and am feeling a lot more comfortable there.
"For me, last year, coming in to play centre for the first time, it was a bit of a shock, but it's a position I now feel comfortable in and I'm enjoying it.
"In terms of defence, I've been working hard on that."