Edinburgh aim for more Heineken Cup cheer

By Jim Mason
BBC Scotland rugby reporter
Last updated on .From the section Rugby Union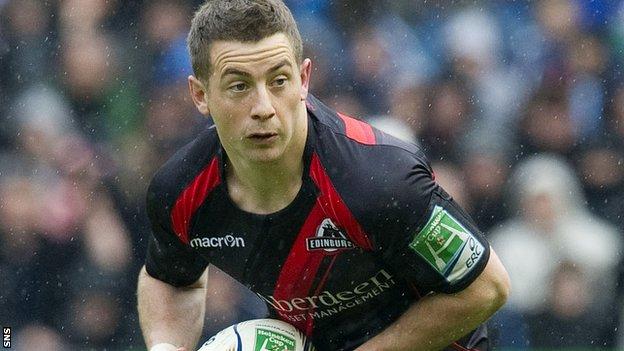 On 7 April a Murrayfield crowd of 37,881 watched Edinburgh beat Toulouse 19-14 in the quarter-final of the Heineken Cup.
It was the first time one of Scotland's pro-teams had qualified for the semi-final stage of Europe's premier club competition.
The man who scored most of the home side's points that day was stand-off Greig Laidlaw, notching one conversion, a drop-goal and three penalties.
He also captained the side on that famous occasion.
Since then, Laidlaw has kicked Scotland to victory against Australia and was at number 10 for the following successes against Fiji and Samoa.
Now it's the Heineken Cup that is foremost in the skipper's mind.
On Saturday, Laidlaw will lead his side once again, this time against Saracens.
Last Friday, however, in a match which was marred by too many stoppages and the home side's inability to overcome the stuffiness of their opponents.
Not ideal preparation.
"It was a long weekend, put it that way," sighed Laidlaw.
"We never did our job right on Friday. I truly believe that the boys can turn up and do it right: negate that Saracens' threat."
Saracens come to Murrayfield with a miserly defensive record and Laidlaw knows they will pose threats across the pitch.
"The forwards, their defence and their kicking game; that's the three main areas," he explained.
"We need to combat that with our forwards, good attack, escort their kickers and show good discipline. We can't let them get three, six, nine easy points and start pulling away from us."
Despite victories at home to Zebre and away to Cardiff, Edinburgh's league season has failed to catch light.
It's a disappointment for Laidlaw but according to him it won't affect performance on Saturday.
"It's very annoying but it won't prey on my mind by the time the game comes along," he said.
"We need to be firmly focussed on the job in hand. We're better than we've shown but it's about results at the end of the day.
"As a team we need to understand that we have to do the job to the best of our ability week in, week out."
Last season, and the team should benefit from the experience gained.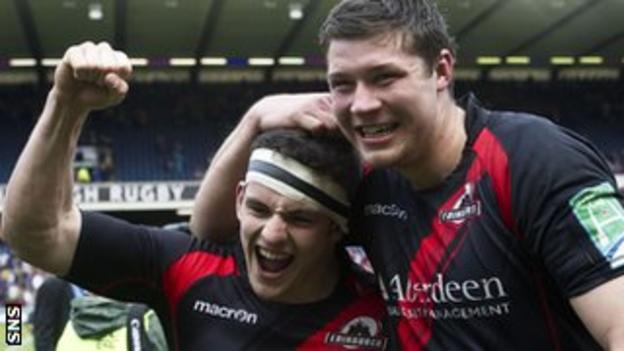 "We won a lot of tight games in the pool stage last year," Laidlaw added.
"It was good to manage these games and see them out. We've nothing to fear once again. We're looking forward to the game and looking to play the style of game that Edinburgh like to play."
The responsibility for game-management doesn't fall entirely on the shoulders of the number 10 but does a game like this bring added pressure?
"I'm the stand-off; that's my job," he replies. "I believe I do my analysis well.
"I look at Saracens inside out. I know where they're strong and where they're weak. I can paint a mental picture.
"Once all the preparation is done, take it into the game and back yourself."
It's often said that Laidlaw has a rugby brain. He can adapt to changing circumstances and, crucially for a stand-off, he can put the players around him into good positions.
He's also an astute kicker.
So, how far does he think Edinburgh can go in this year's tournament?
"If we do our job right, there's no reason we can't repeat what we did last year," he said.
"For us it's one game at a time. It has to be that way, given the tournament format.
"If we lose our first two games then you're all but out the competition. First game up is huge, second game we go to Thomond Park to play Munster. You don't want to go there needing to win. It's a challenge we're all looking forward to."
The memory of more than 37,000 fans at Murrayfield for that Toulouse match in April is still fresh in Laidlaw's mind. With that level of expectation comes pressure but it doesn't faze the nephew of former Scotland scrum-half Roy Laidlaw.
"People expect us to do well in these games; that's a good thing," he smiles.