Gloucester flanker Andy Hazell 'provoked' before sending off
Last updated on .From the section Rugby Union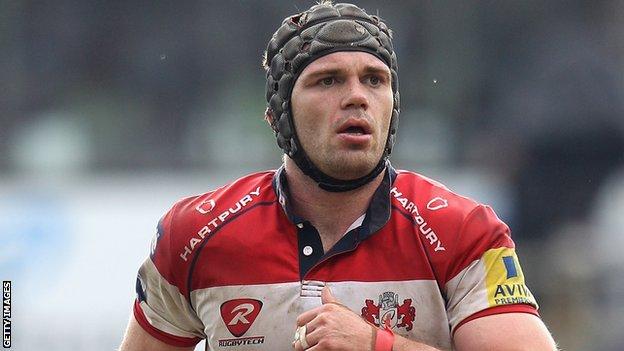 Gloucester flanker Andy Hazell says provocation led him to punch and kick an opposition player.
The 34-year-old was sent off in the second half of their 11-6 Amlin Challenge Cup clash win over French club Mont de Marsan on Thursday night.
After the game, director of rugby Nigel Davies suggested Hazell had been gouged in the eye before he lashed out.
Hazell took to his Twitter account on Friday and said someone had tried to "severely injury" him.
He wrote: "Never had a red in 12 years, extremely embarrassed by my actions. It was the third time someone tried to severely injury me and I reacted in a way I wish I could take back.
"But when you are in that situation you don't know how you would react."
The Rugby Football Union will now assess the dismissal.
Davies confirmed Gloucester are likely to also lodge an official complaint against the Mont de Marsan players involved.
"We can't condone what was done from a Gloucester view, but that was a reaction to what went on before," said Davies.
"We will take our punishment, but I think they need to take their punishment too."