Jeremy Guscott Q&A

By Jeremy Guscott
Former England and Lions centre
Last updated on .From the section Rugby Union85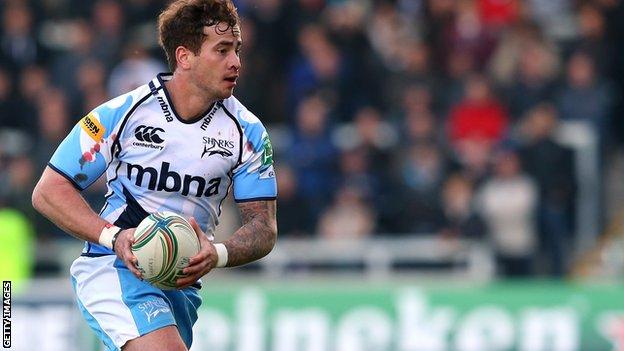 Among the topics Jerry discusses this week are:
- The decision to use only three rugby stadiums as venues for the 2015 World Cup
- Should England coach Stuart Lancaster pick English players plying their trade in French domestic rugby?
- Whether Ulster are currently the best team in Ireland
- - and seeing red on the pitch
Jerry answers questions posted on the website at the start of every week - entries are now closed for this Q&A. This week's answers appear below.
With 31 minutes left and Sale trailing 27-12 against Cardiff Blues, Danny Cipriani comes in at 10 for the Sharks, plays flat and attacks. Some sublime passing, great vision and nifty footwork later, Sale win by one point. It's early days yet, but he did also tackle. Toby Flood and Owen Farrell are fair 10s but don't offer what Cips does. The question I ask is: We know he has the skill, but do you think he will ever learn to tackle, and have England forgiven him yet? tailskidder
I hope he does learn to tackle because without that basic skill he will struggle to remain number one choice at Sale and is very unlikely to play for England again. He is clearly the best attacking English fly-half. His game does need refining in terms of overall game management, but if he could tackle as well as Dan Carter he would be world class. New Zealand fly-half Carter is mentally hard, like former England 10 Jonny Wilkinson, and Cipriani would do well to look at how these two handle themselves both on and off the field - they are real professionals in every sense.
Cipriani has been typecast, and it's down to him to erase that impression people have of him. If he works hard his natural talent will flourish but it takes mental toughness to achieve what your talents are capable of, and the real question is, has it got that in him? He doesn't need forgiving by England; he just hasn't been good enough to earn selection.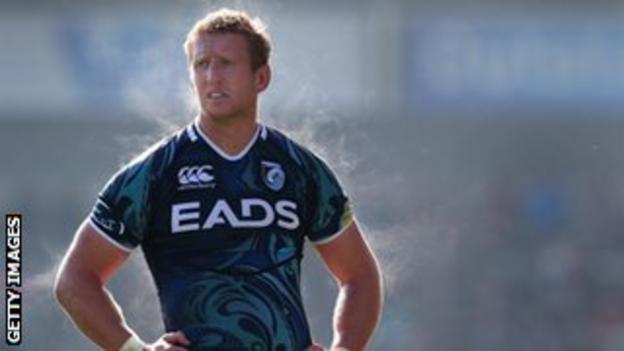 Cardiff Blues are struggling in the league and have now lost to a previously winless Sale. How can they stop the rot? CymruPendragon
With players like Leigh Halfpenny, Alex Cuthbert, Jamie Roberts, Lloyd Williams, Bradley Davies and Sam Warburton, the Blues don't lack quality. A change in coach generally brings a different philosophy and it is taking longer than expected for Phil Davies to establish a connection with the team. I also don't see the international players playing as well for their regions as they do for Wales. If there was more competition for places the regions would be more consistent because all players would know they couldn't afford too many bad games because they would lose their place in the Wales team.
With two minutes remaining and trailing by four points against Sale, Cardiff Blues had a penalty and took the three points instead of going to touch for a line-out near Sale's try line to give us a chance of going for a win. It was puzzling. Do you have any explanation why they did that? And do you recall any odd on-field decisions which changed a game you were involved in? Candyman
I understand your point re. kicking to touch, taking the line-out and then scoring a try to win the game, instead of taking the penalty kick. In fairness, the game should have been closed down when Cardiff were 27-12 up but Cipriani took advantage of Cardiff's complacency. I don't know who made the choice but it was incredibly negative and showed a lot of self-doubt about the ability of the Cardiff team, which would be a worry.
As for similar incidents during my playing days, I remember the famous Scotland v England game of 1990. We were awarded a few penalties which were well within Simon Hodgkinson's kicking range. However, instead of kicking penalties, it seemed as though hooker Brian Moore took over as captain and asked for scrum after scrum. In hindsight this was the wrong option, because they won 13-7 and with it the Grand Slam.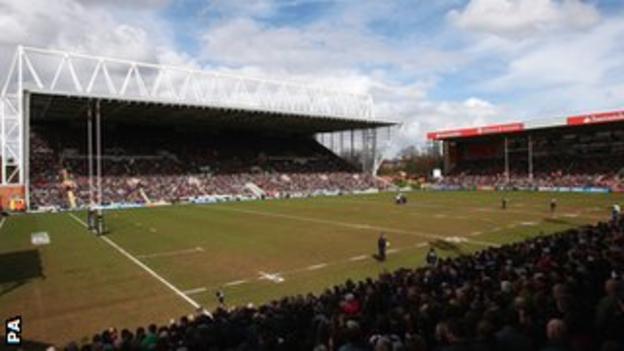 Do you think it's a mistake by the organisers not to include more rugby grounds in the Do you think it is a mistake not to include Welford Road considering that they had planning permission to update their facilities specifically for the World Cup? And do you think clubs like Bath, Cornish Pirates, Wasps et al should have been invested in as part of the legacy? Bob
I can sympathise with the decision made. The RFU won the right to host the World Cup in 2015 mostly based on its ability to generate a multi-million pound return for the International Rugby Board (about £80m). That means selling as many tickets as they can and the more seats there are in a stadium, the more they can sell. I'm sure if you put it to the players of, let's say Japan and Fiji, if they would rather play at Leicester City's football ground or Welford Road, they would all pick Welford Road because of the association with rugby.
England Rugby 2015 should reverse the decision not to use Welford Road. Having said that, if the average price of a ticket to watch the game at Leicester City's 32,000-capacity King Power stadium was £40 and it sold out, playing the game at Welford Road (capacity 24,000) would cost ER 2015 about £320k. If it remains at Leicester City I'm sure rugby families in the Midlands will turn up in their thousands to support the games.
Jeremy, following on from last weekend - when he snapped against Mont de Marsan and was sent off - was there ever any time you saw red in a similar fashion? Ali
I did a couple things in rugby I'm not proud of. Playing for Somerset colts back in the day I was sent off for kicking another player and I got in trouble for running over Fran Clough's chest during a Bath v Wasps game (I think he got sent off).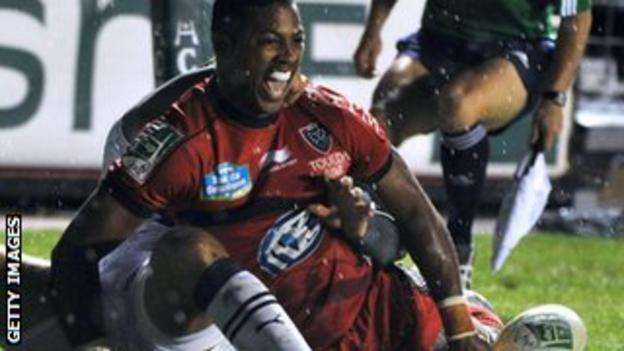 Hi Jerry, having watched Toulon, who were very impressive, in the Heineken Cup, should England boss Stuart Lancaster think about recalling the Armitage brothers, even though they play in France? Delon was on fire at full-back and Steffon looks like a real contender at seven, which is always a problem area for England. Willis
The Armitage brothers appear to be settling in very well to the Toulon way of playing. Mind you, among those talented players it can't be too difficult. The reality is if both continue to play well they shouldn't be ignored - Lancaster and his coaches would be foolish to do so. This whole 'playing in France hinders your chances of playing for England' policy should be retracted - it's silly and carries no weight at all because if Manu Tuilagi decided today to leave Leicester to play in France he would still be picked to play for England. The whole statement was a waste of time.
Delon was playing well in England until he got a few injuries and his off-field behaviour became unacceptable and it appeared he was becoming difficult to manage. His form became patchy and even on the field he became petulant and stroppy, receiving yellow cards from time to time. It looked like a frustrating time for him but he showed some immaturity in dealing with it. I hope he remains in this kind of form because it's exciting to watch.
Steffon had an opportunity with England [he won five caps from 2009-2010] but it was with an average team and he didn't really shine, which, given the circumstances, wasn't such a great surprise. He's only 27 so still has time to surface again, but I think he needs to be at David Pocock's level to really impress.
What do you make of the Premiership clubs' start to the Heineken Cup in comparison to the Pro12 clubs? Why do you think the Pro12 clubs performed so badly in the opening round this year when they usually start stronger? lifelongrugbyfan
It's only round one. We may have two English and French clubs topping pools, plus one Welsh and one Irish, but there's a long way to go. Looking through the fixtures, the two Italian clubs were always going to be up against it at the weekend. Cardiff Blues had every chance to beat Sale and should have done so, given the lead they had. Exeter were on a high playing the current holders and went for it, but Leinster still got home. Munster made more mistakes than usual and paid the price against Racing Metro, while Clermont are potential winners so it's no surprise they beat Scarlets. Edinbugh got caught short by Sarries and Glasgow got out-muscled by Saints.
Hi Jeremy, without wishing to sound like a stuck record, Leicester again failed to demonstrate any great leadership in their Ben Youngs's quick tap penalty when in front of the posts was representative of a team without a strong character to grab the players by the scruff of the neck. We have good individual players but no obvious leader and I think it will cost us. Thoughts? Leam_tiger
Hi, there are leaders in the Tigers team but maybe they are not putting their hands up just now, which is surprising. Coach Richard Cockerill was disappointed with his team's showing but they were never favourites to win that game given Toulouse's home record and their higher quality players. I'm sure games at Welford Road will be different but I reckon the bookies are likely to have Toulouse as favourites for that match unless they have qualified already and don't send a strong team.
Hey Jeremy, why do you think that in the Heineken Cup against Edinburgh, Saracens played some thrilling rugby, but in the Premiership they can only be described as a boring team? Phil
That's a hard one to explain but I was pleased to see Saracens score five tries, all by backs. If they continue to play like that they would be more difficult to predict and harder to beat. They will need to play more in this fashion if they have any designs on winning the Heineken Cup. As for the Premiership, we will have to wait to see if they continue playing this way. I hope they do.
Dear Jerry, would you bring Ruan Pienaar into the Ulster starting line-up for the Glasgow game, or would you stick with the in-form Paul Marshall at scrum-half? Roarz
It's a long season and Pienaar has played some hard games recently as he has been on duty with South Africa in the Rugby Championship. I would keep him on the bench and bring him on if things aren't going to plan against Glasgow on Friday.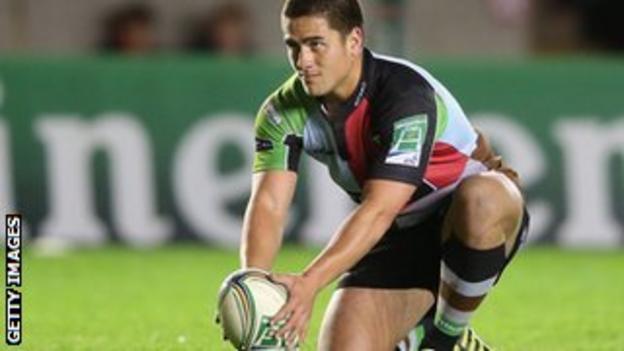 What do you make of Harlequins fly-half Ben Botica? He did very well when he came on Can he fill the gap left by the injured Nick Evans? Rugby Lad
I thought he did well; I was very impressed. He's prepared to have a run, step and take on defenders. His distribution out of hand is good, his tactical kicking sound and, at goal, plenty good enough. Filling in for or following Nick Evans won't be easy but this young man looks to have the class to give it a very good go. It looks as though Quins have found a little gem of a player.
Maybe a controversial one here, but with Munster losing out to Racing Metro, and Leinster and Connacht only getting scrappy wins over Exeter and Zebre respectively, do you think Ulster are the best team in Ireland at the moment? Chris
I would say Ulster's league position atop the Pro12 and the way they put Castres away would suggest they are the form Irish team right now. However, a week is a long time in rugby and no titles or trophies are won until the end of the season.