O'Driscoll hints at possible reunion with Cheika in Sydney
Last updated on .From the section Rugby Union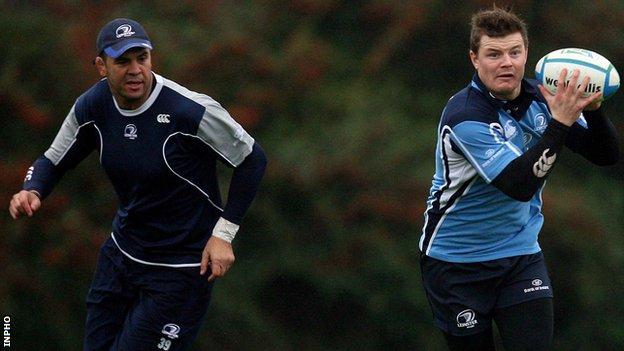 New South Wales Waratahs coach Michael Cheika has not ruled out the possibility of Brian O'Driscoll linking up with the Sydney-based side.
O'Driscoll was recently reported to have expressed interest in linking up again with his former Leinster coach Cheika before the end of his career.
Cheika said he would not approach the 33-year-old in mid-season but has not ruled out future talks.
"That is Brian saying how he feels about things," said Cheika.
"It is no secret that he is one of a number of top players over there who would love to come down and play in the Super 15
"I saw him before I left - I went to say goodbye. But we haven't spoken since. I wouldn't want to do that to him or the club.
"He is in the middle of a season, the Heineken Cup is still on and they are focusing on that.
"We don't have a marquee player... and whether we would go down that road is something we would have to discuss."
O'Driscoll, whose entire club career at the top level has been with Leinster, has acknowledged that he would be "excited" by the challenge of playing in the Super 15 competition.
"You look at the individuals and you look at the calibre of sides and the quality of Super Rugby and the intensity of it, obviously it is a hugely high standard," O'Driscoll told the Daily Telegraph.
O'Driscoll tempered his enthusiasm by adding that "time might have passed on that front" but added that he was "definitely a never say never sort of person".
The Ireland star is contracted to Leinster until next June and could then feature in another Lions tour in Australia over the summer.
"Cheiks has my number, so if he wants to give me a call, he knows how to get me," he added.