Guernsey lose to Gravesend in National Three London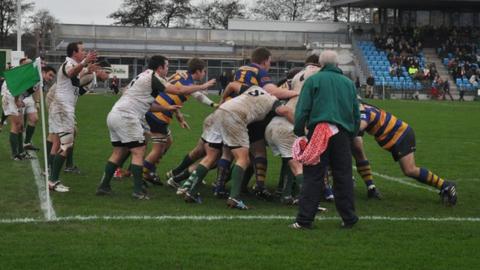 Guernsey fly-half Blair Campbell says they should have beaten Gravesend in National Three London and South East.
The island side slipped to fifth-from-bottom after going down 33-20 in Kent, their fourth successive defeat.
"It could have been the turning point of the season if we had won, but we lost," Campbell told BBC Guernsey.
"It was certainly one that we should have won, but the way that we're going at the moment we struggled through it and we didn't come away with it."
Tries from Adam Bishop and Ashley Moorey put Gravesend 14-3 up after 15 minutes before scores from Jason Harvey and scrum-half Malcolm Barnes saw Guernsey edge in front by a point.
But just before half-time Chris Meddings went over to give the home side a 21-15 lead.
Lewis Hillier got a try for Guernsey just after the break, but Dale Rutlidge missed the conversion to leave the island side one point adrift before another try from Meddings and one from Alex Buller saw Gravesend home.
"If we knew what was going wrong we could fix it, we have the personnel on the field to fix it, injuries are no excuse, we just didn't perform," Campbell said.
"We've got to trust in what Jordan (head coach Jordan Reynolds) is telling us, get our patterns right and keep plugging away and hopefully it'll come right.
"We're still outside the relegation zone, but we believe we won't be relegated, so we're just aiming to put the results together, put the performances on the board, and the rest should take care of itself."