Clermont Auvergne loss might help Exeter - Rob Baxter
Last updated on .From the section Rugby Union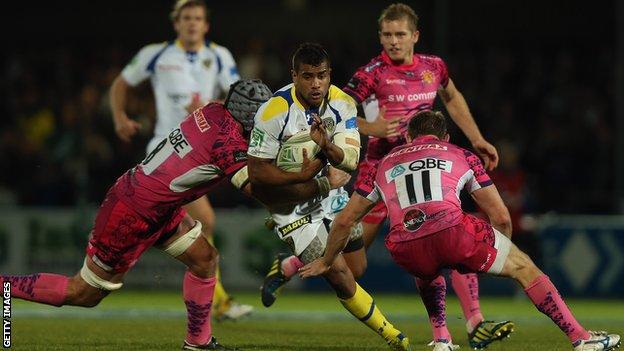 Exeter boss Rob Baxter says their heavy in the Heineken Cup might help his side.
The Chiefs conceded five second-half tries as Exeter lost 46-12 on their home debut in the Heineken Cup after last week.
"They're a good team. We've given it a real good go and come up a bit short," Baxter told BBC Radio Devon.
"But we've not come up as short as the scoreline suggests, and we'll turn up a better team than we went into it."
The Chiefs led 12-10 at half-time before the second-half onslaught which saw Wesley Fofana score twice, Napolioni Nalaga add to his first-half try and Julien Bonnaire and Sitiveni Sivivatu go over.
And Baxter says he is disappointed that his side did not take more of their first-half chances.
"The thing that will frustrate us when we review the game is that we created a few try-scoring chances in that first half that we didn't take," he said.
"Not scoring those tries really stopped it becoming a real pressure game against Clermont.
"But you've got to take your hats off to them in the second half, they came out and really played.
"They were more clinical and when they got the momentum they scored their points, which is what you have to do."
But Baxter says the big loss might help his team if they can learn from it and improve for Saturday's Premiership game at Bath.
"In a perverse kind of way I'm glad it was tough as it's supposed to be tough," he said.
"You get better as a team and as players when you deal with tough situations.
"We've got to take some of the intensity that we've shown in the last two weeks into Bath and if we don't these two weeks lose their effect."