England coaches face autumn test

By Tom Fordyce
Chief sports writer, BBC Sport
Last updated on .From the section Rugby Union71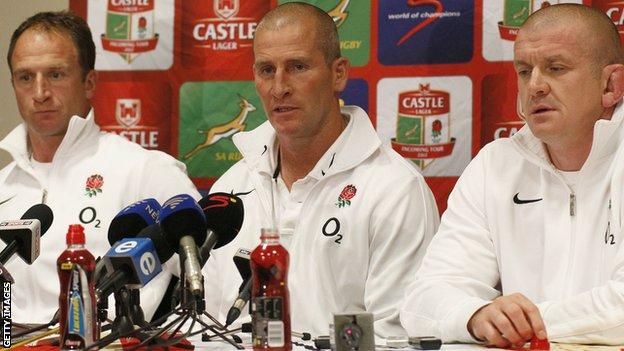 A year since England returned from the World Cup beaten, bedraggled and belittled, they begin preparations for the autumn internationals with their next permanent coaching staff finally in place.
It has taken many months, plenty of negotiation and more than a few false starts. But has the right blend been found? Who will be doing what, and will they combine to produce a more uplifting performance at the 2015 World Cup than Martin Johnson's team managed in New Zealand 12 months ago?
A few days ago BBC 5 live brought the four key men - head coach Stuart Lancaster and his assistants Graham Rowntree, Andy Farrell and Mike Catt - into the studio to discuss their ethos and plans for the future.
Not least of the revelations was exactly how the responsibilities divide. During last spring's Six Nations, Rowntree led the forwards, Farrell the backs. During the summer tour to South Africa, with Farrell having briefly spurned a full-time role to stay with Saracens, Catt took over his speciality.
Now the nomenclature has changed again - Farrell officially defence, Catt attack, Rowntree forwards. Do not read too much into it.
"We are an integrated team," says Lancaster. "I set the overall framework and have the final say in selection, but these guys do the detail."
"Within the group, we don't divide," says Farrell, at 37 the youngest of the four. "The game is a whole game; you defend for a reason, to get the ball back so you can score a try. Everything is connected, and we're like that as a coaching team.
Catt agrees. "We all have our own ideas, it's how we put them together. We then sell it to the players and make sure they're confident we're giving them the right messages. The more we challenge and support each other the better chance we have."
Back in April, Lancaster seemed set on continuing with a smaller unit, borrowing from the All Blacks' successful 'Three Wise Men' set-up of Graham Henry, Steve Hansen and Wayne Smith. Only the delay in securing Farrell appeared to change that thinking, while the failure to lure Smith despite a long courtship was the trigger for Catt's appointment.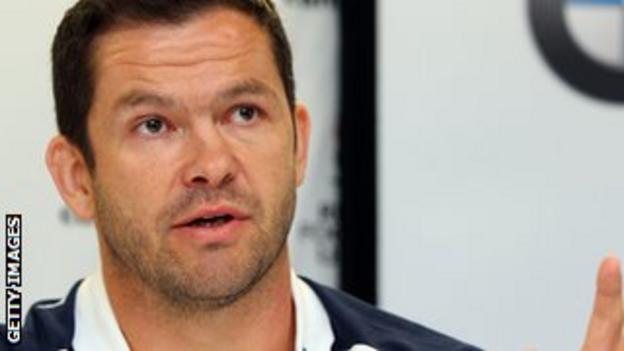 After such a haphazard formulation, can Lancaster really be sure he's got the combination correct?
"It was an interesting evolution to get to where to where we have, but I think we're in a great place," he says.
The forthcoming tests at Twickenham against Fiji, Australia, South Africa and New Zealand will prove a redoubtable examination of that statement. After a successful Six Nations - four wins from five for second place in the table - the failure to win any of the three summer Tests against the Springboks realigned supporters' expectations.
Lancaster says he wants his team to play without fear, matching the boldness he has shown in selection - seven new caps for his first game in charge, against Scotland at Murrayfield, 15 changes to the first elite squad he announced.
He is also aware of the precarious balance he must strike between short-term wins and the overall goal of World Cup success on home soil in three years' time.
"In teams that win World Cups, around 600 caps in your starting XV is the norm," he says. "Today we have 300; with around 34 games to go, we should be around the number by then."
Henry, the most successful coach in world rugby in the four years up to his World Cup triumph, revealed on his retirement the three key aspects to his approach.
"The first was understanding and acquiring the knowledge and the mental skills to handle pressure. The second was creating an environment where the players self-managed themselves. And the third was making sure everybody has total clarity around the game we were trying to play."
Lancaster, an ardent student of the coaching art, wants his England to work the same way. "For me creating the right culture around the team comes before performance. If you focus on performance without focusing on culture, then under intense pressure you'll crack and probably break."
Henry's set-up - and that of other World Cup-winning coaches - provides an interesting context to the new England regime.
The Kiwi was vastly more experienced than Lancaster at his moment of Webb-Ellis glory: 65 years old, 19 years into his senior coaching career, 37 years on from his first coaching role.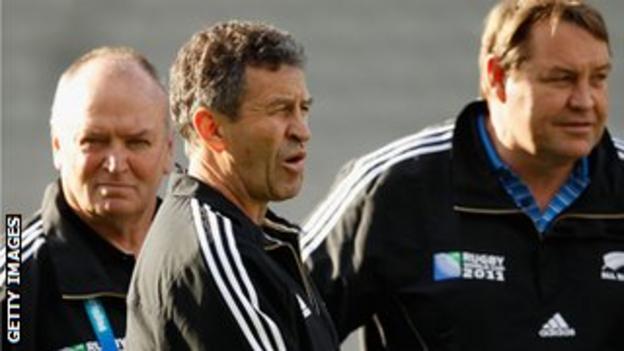 Forwards coach Hansen was 52, with experience as Wales head coach on his long CV; attack coach Smith, 54, had led the All Blacks before returning as Henry's assistant.
Team Lancaster are a more callow bunch. Of the four only Rowntree has prior international coaching experience; their leader is just 43 years old, and has spent more time as a teacher than in top-flight coaching.
Henry's winning percentage as All Blacks coach - 85.4% - is unparalleled. That does not mean that his template is flawless.
For one thing he had already failed. Had England followed the All Black's decision to retain their head coach after a disappointing World Cup quarter-final defeat, then Johnson would still be in charge. Henry's second chance allowed him to learn from those earlier mistakes; Johnson's position had become untenable.
Then there is the paradigm of the previous World Cup: won by a head coach, Jake White, who was just 44 at the time and had only 12 years senior experience. His forwards coach Gert Smal was just 45; backs coach Allister Coetzee was a year younger.
Lancaster too is a veteran in comparison with his predecessor Johnson, who was just 38 and had zero coaching credits when appointed in 2009.
Neither do the men around him compare badly to Johnson's lieutenants John Wells, Mike Ford and Brian Smith (Rowntree spans both eras); Farrell was preeminent in the great Wigan, England and Great Britain league teams of a decade ago and won eight England caps in an injury-truncated union career; Catt clocked up 75 caps en route to winning one World Cup and reaching another final.
Yet it is undeniably inexperienced compared to the most successful set-up in the northern hemisphere.
Warren Gatland, with two Grand Slams and a World Cup semi-final to his name, has squeezed 23 years of coaching, including previous international experience and successful spells at Waikato and Wasps, into his 49 years. Lancaster does not have the Premiership coaching credentials of Gatland's defence coach Shaun Edwards; attack coach Rob Howley has been coaching at international level for five years to Catt's two months.
What Lancaster does have is a grounding in managing international age group teams and regional academies, tied to a keen understanding of English rugby culture and how its supporters want the national team to play and behave.
He believes he has the players, both the seniors who will make up the 32-man autumn squad he will announce on Thursday morning and in the age-group teams he knows so well.
He also speaks passionately about his love of improvement, whether of others - as a teacher, coach and manager - or himself, as the holder of a sports science degree or as a disciple of former San Francisco 49ers coach Bill Walsh and his leadership manual The Score Takes Care of Itself.
"Talent gets you to the top, but character keeps you there," Lancaster told 5 live. He will need both to succeed this autumn and beyond.