Shane Williams considers extending playing career in Japan
Last updated on .From the section Rugby Union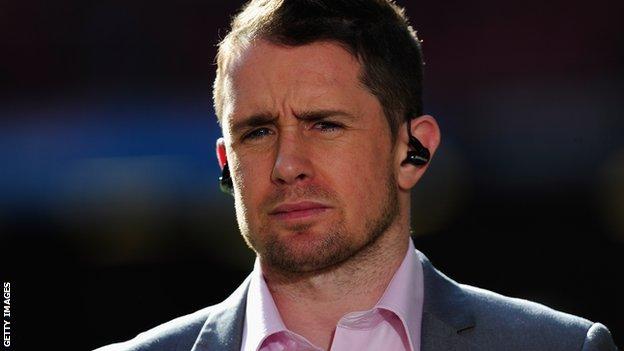 Shane Williams has revealed he is considering extending his stay at Japanese Division Two side Mitsubishi Dynaboars for a second season.
The Dynaboars hope the 35-year-old wing signs for another season and Williams concedes the money is "incredible".
But he said: "If the family aren't happy and don't want me to come out then it is not going to happen."
An insight into Williams' new career in Japan is to be broadcast on BBC Wales' Scrum V TV programme on Sunday.
He tells interviewer Gareth Charles how he has become more interested in coaching since helping with that side of the game in Japan.
The 2008 International Rugby Board player of the year bowed out of Test rugby in December, with 58 tries in 87 games for his country and two in four Tests for the British and Irish Lions.
Williams then announced his retirement from rugby in February after he turned down Ospreys' offer to extend his playing career with the Welsh region to a 10th season.
The double-Grand Slam winner is also Ospreys' record try-scorer, with 57 touchdowns in 141 matches.
He took up an offer to extend his playing career in Japan for a "once in a lifetime" opportunity.
Williams' final game for the Dynaboars is in December but he could remain in Asia if his wife, Gail, and two children, Georgie and Carter, are happy for him to stay on.
"My family are my first concern," Williams told Scrum V.
"The reason I retired from international and professional rugby was to spend more time with the kids and the family and fortunately I'm doing a lot of that and it is great.
"If they don't want to come out here next season and they are not happy with me coming out, then I won't come out. The family are enjoying it at the moment
"Financially it would be easy for me to stay, the financial gains are incredible and the money you could make in Japan at the moment is just unbelievable - and that is a big part of it because I'm looking after my family.
"There are pros and cons. There may be an option to stay out here next year and be involved again and there are options back home.
"And if I stay in the UK and take some of the other options I've got, I'll be just as happy.
"I'm still enjoying playing rugby, the pressure is off as I haven't got people watching my every move and criticising or praising me. I can just get on with things.
"There's a little bit of pressure from the Japanese to perform well for the Dynaboars but I can handle that side of stuff."
Williams is also part of the coaching staff at the Dynaboars as the two-time Lions tourist mentors the club's backs.
"If you would have asked me 12 months ago when I decided to retire from the Ospreys, I was going to go down another path and stay away from the coaching side of things," he added.
"But since I've come out, I've enjoyed coaching and being involved in the meetings and discussing how we should play and how to improve the side. It is something I want to get more involved with."
Watch an extended Shane Williams interview on Scrum V on Sunday, 28 October at 17:25 BST