Ospreys director Rob Davies criticises Welsh Rugby Union
Last updated on .From the section Rugby Union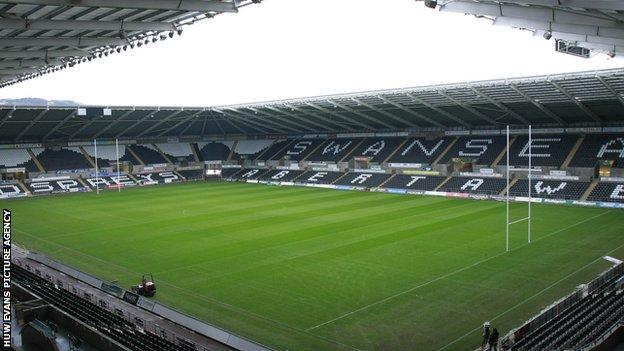 Ospreys director and investor Rob Davies has launched an outspoken attack on the Welsh Rugby Union claiming they do nothing to promote the regions.
Davies claims the regions do not receive enough money to be competitive and as a consequence the best players will leave Wales.
"The union does nothing to promote the regions," Davies said.
BBC Sport Wales has contacted the Welsh Rugby Union for a response to the comments.
Wales' four regions each receive £3.5m annually from playing in televised competitions, combined with a share of £6m from the WRU.
But in recent seasons, the regions have lost players to French and English clubs, having introduced a £3.5m annual salary cap.
The WRU and the four Welsh regions' financial review of professional rugby by accountants PricewaterhouseCoopers has been completed with the findings expected to be announced soon.
Former Ospreys managing director Mike Cuddy recently said the WRU should give more money to the four regions.
Cuddy relinquished his role as joint managing director of Ospreys after almost 10 years in the post but remains as a director and shareholder.
WRU chief executive Roger Lewis has said the regions turned down an offer to contract their Welsh international players centrally.
He said the WRU planned to use the £6.2m they give the regions for releasing their Welsh stars for international duty to fund central contracts.
"What we have here is a completely one-sided arrangement," Ospreys director Davies said in an interview with The Independent.
"The WRU takes in all the money and distributes it the way it chooses.
"The English and Scottish clubs receive upwards of £5m a year from the central pot, as do the Irish provinces.
"In Wales, the regional sides get £3.5m. And we're meant to be competitive? With that kind of shortfall?
"In the end, we simply won't be competitive. And if you're not competitive, what's the point of being involved?
"Of course the best players in the country will look elsewhere, it's inevitable that they will leave."
"What will that do for rugby in this country in the long term, or for the Wales team, come to that?
"All I want from the people from the union is an honest discussion about their vision for the future of the game here."