Murrayfield could be renamed for right price - Scottish Rugby
Last updated on .From the section Rugby Union120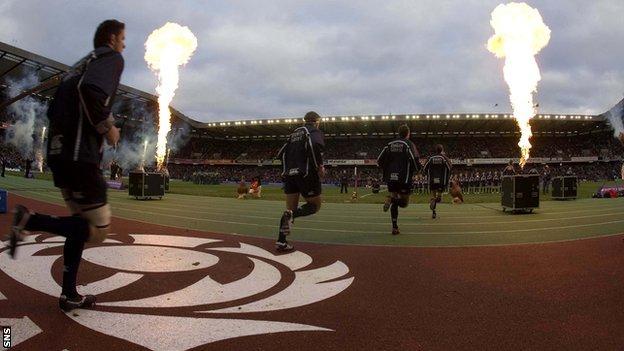 Scottish Rugby is seeking sponsorship that could see Murrayfield renamed.
SRU chief executive Mark Dodson told BBC Scotland that it could generate millions of pounds a year.
"The single biggest piece of our inventory is our national stadium," he said. "We would like to see if we can monetise that.
"It would be crazy for us not to look at using our single biggest piece of inventory to drive revenue. We want to get the right price for it."
Increasing revenue for Scottish rugby was one of the aims laid out in Dodson's four-year strategic plan, which was released in June.
And he believes renaming Murrayfield should be explored.
"We're looking at trying to bring money in across our inventory," he added. "We want to be sympathetic about how we do it.
"It depends on how you pitch and what goes in the package, but it's millions of pounds a year."
Renaming stadiums has proven to be controversial - with the decision to rename St James' Park - but it can also be lucrative.
Emirates paid Arsenal £100m to have its name on the club's stadium for 15 years, and also recently - the new velodrome for the 2014 Commonwealth Games in Glasgow - for the next 10 years.
The Ireland football and rugby teams play at the Aviva Stadium and South Africa at the Coca-Cola Stadium.