Amber Reed set for England Women debut against France
Last updated on .From the section Rugby Union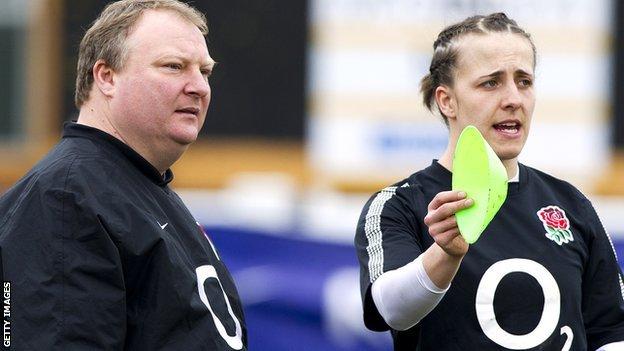 Amber Reed will make her England Women debut against France on Saturday in the first of four autumn internationals.
England host France at Esher RFC before taking on world champions New Zealand in a series of three Tests in nine days, starting on 23 November.
"It's a great chance to test the mental strength of the younger players," said England head coach Gary Street.
"It's also a chance to give game time to several players who are returning after a period out with injuries."
Heather Fisher, Jane Leonard and Fran Matthews return after being sidelined by injury this year, while Claire Allan is set to make her first England appearance in over two years.
England, who won their seventh successive Six Nations title and sixth Grand Slam in seven years in March, last played France in the European Cup final in May, winning 29-25.
England Women squad
15 Danielle Waterman (vice-captain, Worcester), 14 Francesca Matthews (Richmond), 13 Claire Allan (Richmond), 12 Amber Reed (Bristol), 11 Ruth Laybourn (Darlington), 10 Alice Richardson (Richmond), 9 Natasha Hunt (Lichfield), 1 Rosemarie Crowley (Lichfield), 2 Emma Croker (Richmond), 3 Kate Newton (Bristol), 4 Rowena Burnfield (Richmond), 5 Emily Braund (Lichfield), 6 Heather Fisher (Worcester), 7 Jane Leonard (Wasps), 8 Sarah Hunter (captain, Lichfield)
Replacements: 16 Victoria Fleetwood (Lichfield), 17 Rochelle Clark (Worcester), 18 Laura Keates (Worcester), 19 Isabelle Noel-Smith (Bristol), 20 Harriet Millar-Mills (Lichfield), 21 Fiona Davidson (Richmond), 22 Ceri Large (Worcester), 23 Joanne Watmore (Worcester)