Heineken Cup: Rival plans 'evaluated' by ERC
Last updated on .From the section Rugby Union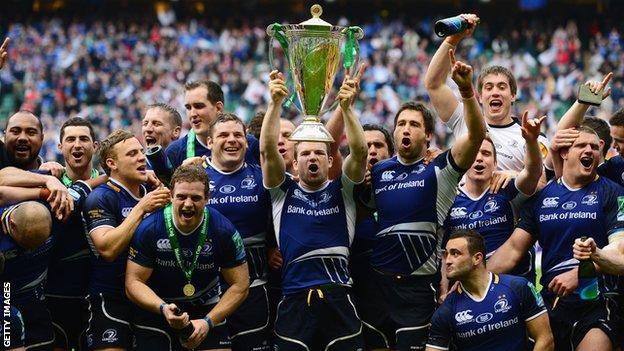 European rugby union bosses are set to consider two rival proposals to revamp the Heineken Cup.
English and French clubs have proposed the tournament should be reduced from 24 to 20 teams.
The Rabodirect Pro12 league, featuring Irish, Scottish, Welsh and Italian teams, wants an increase to 32 teams.
The plans will be evaluated by European Rugby Cup (ERC), with the results presented at the next stakeholder meeting on 12 December in London.
The ERC said: "This evaluation will examine the rationale for the proposed changes to both tournaments, as well as the impact on all stakeholders of any change to the format and structure of the competitions."
The decision comes after English and French clubs announced their intention to pull out of the Heineken Cup after 2014, with a row over English TV rights inflaming the situation.
Premiership Rugby and their French counterparts want all teams to qualify for European rugby union's blue riband club tournament "on merit", removing guaranteed places for the Pro12 clubs.
But the Celtic and Italian clubs oppose the proposals and are not willing to give up guaranteed qualification.
There is no relegation from the Pro12 and the English and French sides argue this gives teams from that league - notably the Irish provinces, who have enjoyed huge success in the Heineken Cup over the last decade - an advantage because they can rest players for league matches to keep them fresh for Europe.
The English and French clubs also want the money from the TV deal to be split evenly between the English Premiership, French Top 14 and Pro12 - at the moment the Pro12 receives 52% of the income.
The Pro12's proposal of a 32-team tournament was initially presented at a meeting last week, to which the English clubs were not invited, and was rejected at that time by the French clubs.