Rugby World Cup 2015: RFU plans for £26m legacy investment
Last updated on .From the section Rugby Union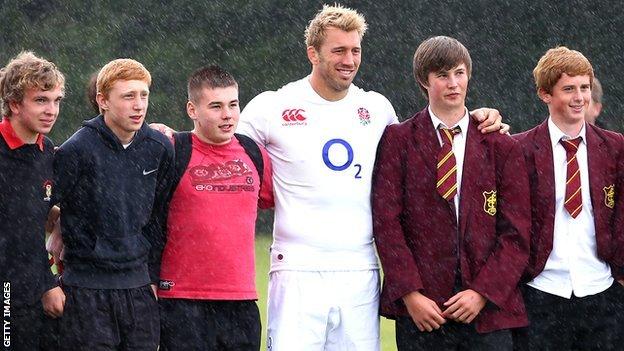 The Rugby Football Union will invest £26m at grassroots level to capitalise on predicted increased interest in the 2015 World Cup in England.
£25m will be put towards 500 clubs and £1m will help train 6,500 new referees and coaches and recruit 5,000 volunteers by 2015.
The RFU admitted it did not capitalise after England won the 2003 World Cup.
"We are going to hit the ground running," said former England prop Jason Leonard.
The RFU expects interest and participation in rugby to grow in the lead-up to the tournament, which runs from 18 September to 31 October.
It concedes that following the 2003 World Cup there were not enough coaches to cope with an upsurge in players.
"We didn't plan in advance. The coaches and referees just weren't there," said Steve Grainger, the RFU development director. "That is absolutely what we are doing now."
The £25m investment will help clubs improve aspects such as kit, equipment, club houses, changing rooms, floodlights and all-weather pitches.
There is also a commitment to introducing 15,000 people to touch rugby.
In addition, the All Schools programme is aimed at giving a million children the chance to play rugby, with a target of introducing the sport to 750 secondary state schools by 2019.
"This is a great opportunity for English rugby," said Leonard, who was a member of England's World Cup-winning side and played 114 Tests between 1990 and 2004.
"I think this will be the best ever World Cup and we have got to make sure we push that all the way through."