Strokosch wants best Scotland display against New Zealand
By Phil Goodlad
BBC Scotland
Last updated on .From the section Rugby Union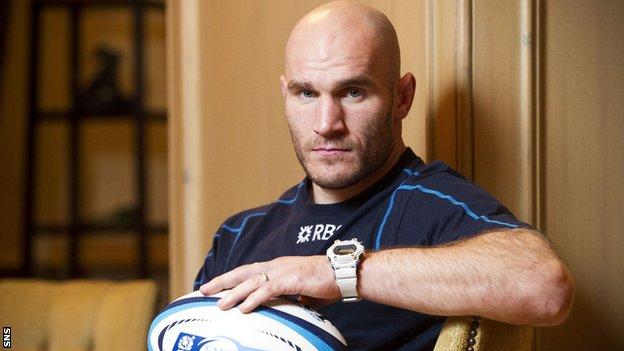 Al Strokosch knows Scotland must "play the best game we have ever played" to have any chance of beating New Zealand at Murrayfield this month.
"New Zealand are the best team in the world and we will have to raise our game from where it's been if we want to knock them off," Perpignan flanker Strokosch told BBC Scotland.
"But I wouldn't step on the pitch if I didn't believe we could do it.
"We are going up against 15 other human beings, they are not supermen."
In 28 meeting since 1905, Scotland have never tasted success against the All Blacks.
And following their World Cup triumph on home soil last year, New Zealand were unbeaten on their way to winning the southern hemisphere's inaugural Rugby Championship.
"They have always been either the best or one of the best teams in the world and definitely one of the most entertaining sides," added Strokosch, who made his Scotland debut in 2006.
"Anyone who has ever played or watched rugby knows about the All Blacks and what they represent.
"But it's just another game and you can't go into it with that level of awe."
Like Strokosch, Dave Denton has never faced New Zealand and the Edinburgh back-row star is desperate to be involved on 11 November.
Scotland recovered from a dismal whitewash in this year's Six Nations to beat Australia, Fiji and Samoa on their summer tour and that has given the 22-year-old reason for optimism ahead of the autumn Test series.
"We're in a very good place right now," he said.
"The Six Nations was very tough. I found it difficult to get up mentally after each defeat.
"But I think that builds character in what is a young team and I think that showed when we went down south in the summer.
"Playing against New Zealand, South Africa and Tonga is going to take more than skill and ability. It's a massive mind-set thing and we'll need to show all the character we have.
"We truly believe we can beat the All Blacks but there are various things we need to do in order to achieve that.
"First and foremost, we need to dominate them physically. If we can do that, it might shock them.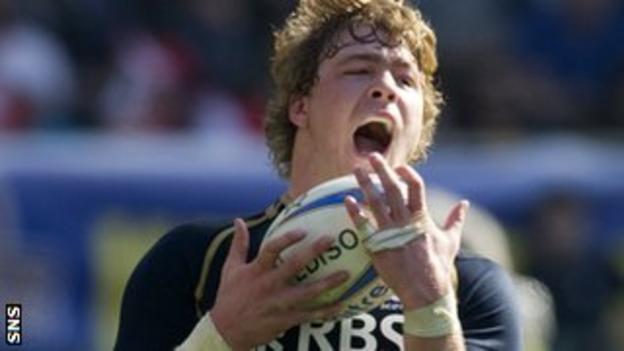 "The forward pack will obviously play a massive part in that."
Mike Blair has experience of playing against the All Blacks, with the last game proving particularly painful.
The Brive scrum-half was captain at Murrayfield in 2010 when the visitors romped to a 49-3 victory and had to make a first-half exit after a head knock.
"I think the key thing against New Zealand is the start of the game," he explained.
"The three times I've played against them, within 10 or 15 minutes they have had two or three scores on the board.
"In 2010, we were 21-0 down very early and we can't afford to give them that time and space.
"Once they get that cushion, they are an extremely hard team to play against."
Scotland need to win two of their three autumn clashes in order to rise into the top eight in the world rankings, which would ensure a second seeding for the 2015 World Cup.
South Africa, who lost at Murrayfield in 2010, and Tonga would appear to offer the best route for Scotland but Denton prefers to focus on taking on the world champions.
"It's a massive opportunity for us," he enthused.
"You get to weigh yourself up, individually and collectively, against the best in the world.
"What more can you ask for as a person, whatever profession you are in?
"There isn't any better way to prove how good you are to yourself and to others.
"I can't wait. I'm counting down the days."