Guernsey boss Jordan Reynolds hails 33-12 Thurrock win
Last updated on .From the section Rugby Union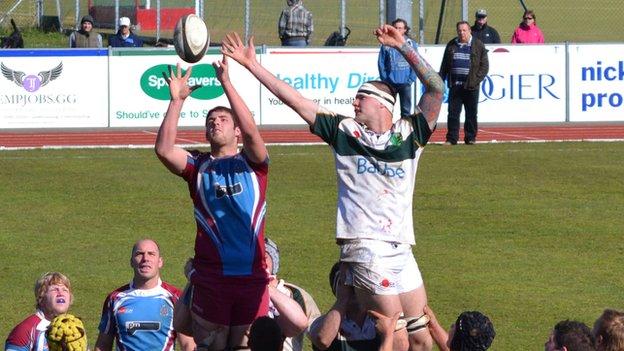 Guernsey coach Jordan Reynolds says his side's 33-12 win over Thurrock was one of the best in the club's history.
After going behind in the first minute, Guernsey rallied to get their second win in a row and move up to seventh in National Three London.
"It was probably one of the best performances, in my opinion, that Guernsey have ever played," Reynolds told BBC Guernsey.
"We were absolutely fantastic across the park."
Reynolds added: "They're highly regarded as a quality side and have a lot of depth and have just got a couple of England Under20s second rows."
Guernsey had a number of players back from injury, such as Nick Barton and Cameron Crane, but Luke Sayer, Darren Bellingham, Jason Batiste and Jim Regnard were still out.
"Guys like Andy Rigden, who's just stepped up to the first team, had an absolutely storming game," added Reynolds.
"We went through a bit of a rough period, hopefully now we are seeing a bit of light at the end of the tunnel.
"We have got guys coming back from injury, which is what helped us.
"If you have injuries to your key guys that's is going to affect the team, regardless of where your depth comes from, but those guys are coming back and it's changing.
"It wasn't the same team that was playing four weeks ago, it's really changed."