Jeremy Guscott's autumn internationals Q&A

By Jeremy Guscott
Former England and Lions centre
Last updated on .From the section Rugby Union106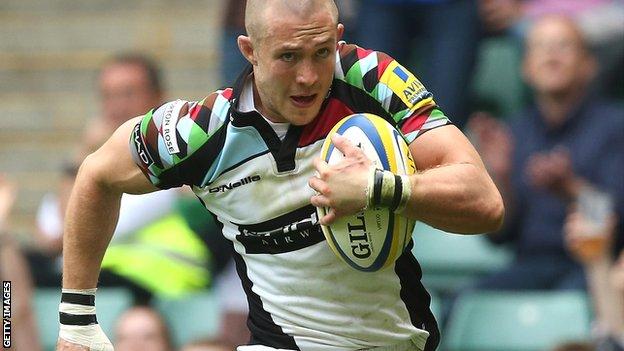 Among the topics Jerry discusses this week are:
- His predictions for the Test matches this weekend
- Who should play full-back for England
- What it takes for a coach to blend together a Test team
- Who should captain Ireland this autumn
- Which player should replace the injured Dan Lydiate for Wales
Jerry answers questions posted on the website at the start of every week - entries are now closed for this Q&A. This week's answers appear below.
Mike Brown was as strong, brave and quick-witted as ever at the weekend for Harlequins. Is he a shoe-in at full-back for England for the three "real" autumn internationals that follow the Fiji game? mikej
Hi Mikej, given his form he has a very good chance of starting and, because he was picked ahead of Ben Foden in South Africa, you would think he'd still be in line to play. However, England boss Stuart Lancaster could go for Saracens' Alex Goode, as he offers a different option because he can come in as a first receiver during the phases, and Lancaster might want to try that out in the first Test against Fiji. I think Brown should be selected on current form.
Hi Jeremy, very simple question, what are your predictions for the weekend's autumn internationals? Joew
Hi Joew, England to win by about 15 points against Fiji, Wales to win by a score against Argentina, Scotland to lose by about 20 points to the All Blacks, Ireland to lose to South Africa by a score, France to win by a score against Australia.
Being realistic, how many wins do you expect England to get during the autumn? Rugby Lad
Hi Rugby Lad, it's a tough one to answer but I'd say two - against Fiji and either Australia or South Africa.
Which player do you see as a long term inside centre for England, to add more creativity to the midfield? os99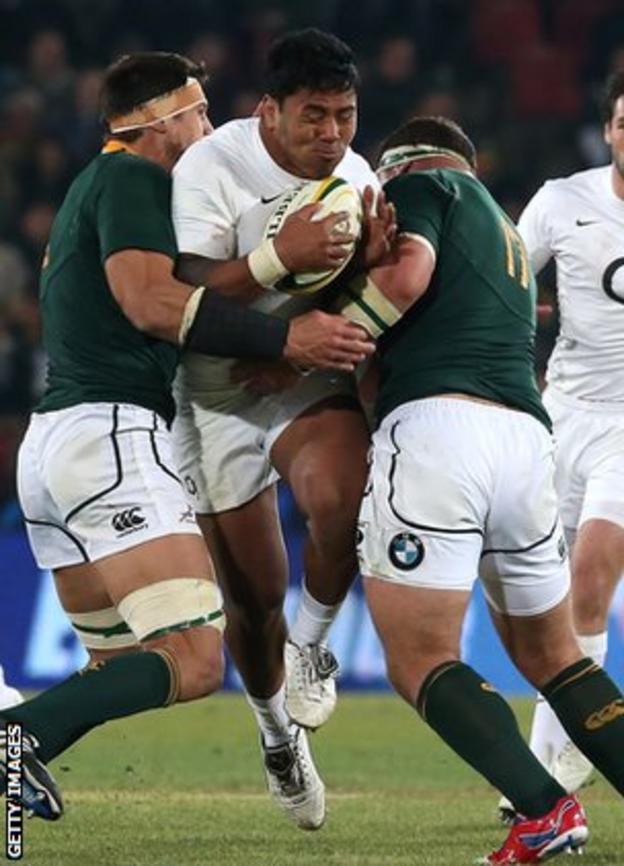 Hi, the long term inside centre is likely to be Manu Tuilagi because I think his fitness, passing and off-loading game will develop more quickly than the speed which he would need to play at outside centre. There is no doubt in my mind Tuilagi can be as good if not better than a player like Ma'a Nonu of New Zealand.
England's current 12, Brad Barritt, is a good player. His performances are consistent, he tackles well and he can carry the ball well to the gainline. There's not a lot wrong with Barritt and Tuilagi playing together, it just limits your passing game, because as a defence you know the ball isn't going to get wide quickly.
Billy Twelvetrees could develop into a good inside centre. He has the skills of an outside half, his pace is reasonable and he has good vision with a pass to match. He needs more game time there - this has been his first full season as first choice because, before he moved to Gloucester, he was not a regular at Leicester.
After Christian Wade and Tom Varndell made David Strettle look second rate on Sunday, how long will it be before one or both of the Wasps wings are included in the England set-up? Rodb
Hi Rodb, Lancaster is blessed with in-form wingers and it looks as though Charlie Sharples and Ugo Monye will start against Fiji. Wade went on the South Africa tour so is on the radar and will be included should anyone else get injured.
Hi Jerry, why is it England have not called up a specialist open-side flanker such as Andy Saull of Saracens to the elite squad because it seems like all the other best nations use them? alex
Hi Alex, Lancaster has decided that neither Saull nor Toulon's Steffon Armitage fit into the way he sees England playing. It's a strange decision given some of the best international back rows have a specialist open-side in their formation.
Some international teams can get away without having a specialist seven, but when they come up against another team that has a specialist open-side they tend to struggle. Personally I think it's a bit shortsighted not to include Armitage considering his brilliant form in the French top flight, just to see the different dynamic he would bring to the back row.
Hi Jerry, I'm thrilled that Freddie Burns has been called up to the England elite squad but with the residents Toby Flood and Owen Farrell already established at international level, how likely do you think it is that Lancaster will give Burns a chance at 10? Azaer
Hi Azaer, it's very unlikely that Burns will play, he's actually in as a centre replacement for the injured Jordan Turner-Hall. Flood or Farrell would have to pick up an injury during training this week for Burns to get in the 22.
With the top teams in the Premiership having totally different playing styles, how does Lancaster (or any of the home nations coaches) forge a game-plan that brings out the best in his players and wins matches? Loper
Hi, it's a very good question which takes a lot of explaining but this is the short version.
He selects - in his opinion - the best players in each position to fulfil his plan of how he sees the team playing in order to win games. Lancaster has to hope he can keep these players together long enough to create an understanding, a bond between him, his coaches and his players that becomes intuitive.
It's not really about the teams in the Premiership, it's about the players in those teams and their individual ability. It is harder for a coach like Lancaster than say Steve Hansen of New Zealand.
The New Zealanders have played the same way for a long time and all their provincial teams play in the same way. It's easier for Hansen to slot a new player in because he's already used to playing the way the coach wants and their skill level is generally good enough.
All the English players may play in a similar way, but what makes the difference is the exceptions to the rule, the ones that have more talent and do more than the shirt number suggests. In the end it is the quality of the player that matters - and currently England don't have the best players in all positions in comparison to the best that New Zealand, for instance, can turn to.
Jerry, so far you have predicted London Welsh would lose in all eight weeks of the Premiership, although I have noticed you are now a bit more conservative in how much by. Now they have won three times and have come close to winning in other games, can you ever see yourself predicting a Welsh victory? Ps Please keep predicting losses as I think it is the underdog title that lets us do so well. mikesix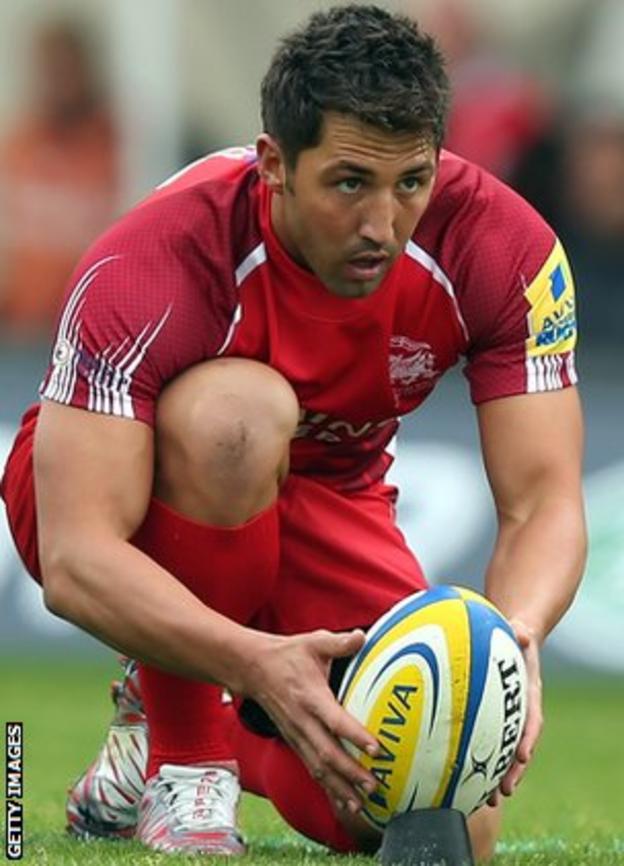 Hi, looking at the next four games - Saints away, Irish at home, Warriors away and Wasps at home - there is a chance I might predict a Welsh win in one or more of those games, but I'm not saying which ones yet - if at all!
Hi Jerry, why is Harlequins number eight Nick Easter getting the "too old" write-off when Simon Shaw represented England aged 37/38 at the World Cup, and Brad Thorn helped New Zealand win it at 36? If we got to 2015 and he was still the best number eight in the country at the age of 37, do you think Lancaster would include him then? This applies to other England early-30s cast-offs too! Bounceoftheball
Hi, I don't disagree with the view a lot of people have, namely that Easter is the form number eight in the English league. Unfortunately for Easter, in my opinion, he didn't play consistently well for England when selected, certainly not as well as he had been doing for Quins.
On form there is no doubt Easter should be playing. It's a very hard decision that Lancaster has made but he stands by it and I don't believe Easter will figure again unless there are injuries.
Hi Jeremy, with Stephen Ferris being ruled out of the autumn internationals what do you reckon the Irish back row should be? Also, who should captain the team as many of the older players have been ruled out? Ferris6
Hi, I'd suggest Jamie Heaslip as number eight, his Leinster team-mate Kevin McLaughlin at six and Munster's Peter O'Mahony at seven. As for the captaincy I'd go for fly-half Jonathan Sexton.
Hi Jerry, with two key players being injured, do you believe that Wales can beat Australia? Who do you think should replace Dan Lydiate and Adam Jones? Aled Reed
Hi Aled, I think Justin Tipuric will probably replace Lydiate, with Paul James possibly coming in for Adam Jones. Wales still have enough ability in their team to beat Australia at home.
Hi Jerry. With almost all of the Welsh players who are still playing in Wales struggling for form so far this season, can you see them stepping up and performing well in the autumn internationals? When you were a player how much did your club form affect your confidence when you left to play for England? Hywel Roberts
Hi Hywel, the form of some players will be a little bit of a worry for interim boss Rob Howley but in general he won't be overly concerned, believing they will show their true class when the time comes. When I wasn't playing particularly well I believed it wasn't going to last for ever and that I just had to wait some time for the good form to come back. Sometimes the change of environment can bring the best out of a player.
I'm trying to start playing rugby, the only problem is I'm skinny and not very muscly, but I'm fast. Is rugby for me or should I do something else? george9683
Hi, I keep on saying this and haven't changed my mind, rugby is still a game for all shapes and sizes. Look at George Ford at Tigers and Matthew Morgan at Ospreys. They are both small by rugby standards but are still able to play very well at first class level.