Scotland not set on playing ugly against All Blacks - Ryan Grant
Last updated on .From the section Rugby Union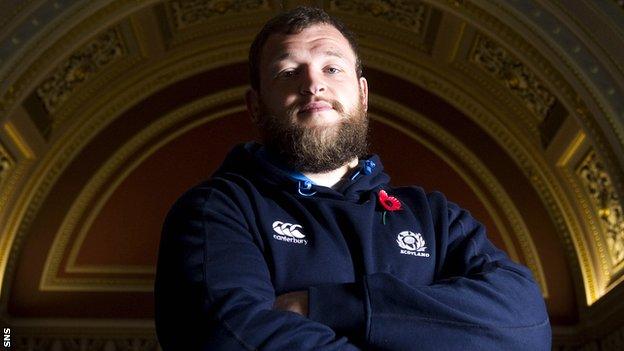 Ryan Grant thinks a spot of rain might help Scotland in their quest for a first-ever win against New Zealand.
But the prop, who will be making his first Murrayfield appearance for the Scots, insists the home side can adapt to various styles and conditions.
"We've had success playing ugly, but we are a good team and we can play different brands of rugby," said Grant.
"There is no doubt that our record in the rain is a tiny bit better, but it doesn't mean that we can't play rugby."
The 27-year-old Glasgow front-rower made his Scotland debut against Australia this summer as the visitors prevailed in a downpour, while South Africa were beaten at Murrayfield on a cold, wet day in 2010.
However, Grant also excelled in searing heat and humidity as the Scots followed their success in Australia with wins against Fiji and Samoa.
World champions New Zealand arrive in Edinburgh as the unbeaten winners of the southern hemisphere's inaugural Rugby Championship.
And Scotland have never beaten the All Blacks in 28 meetings.
The last meeting between the nations was a 49-3 mauling at Murrayfield two years' ago, but Grant thinks Andy Robinson's side can provide stiff competition this time.
"We need to do the simple things well, get the basics nailed down," he told BBC Scotland.
"The tackle contest is probably the most important part of the game these days. The ruck is where I think the game might be won and lost.
"The team that performs best there will have a pretty good chance.
"There will be a massive emphasis on set-pieces. Their set-piece is very, very good and we have been putting in a lot of work in defence.
"What an honour it would be to be the first team to beat New Zealand. It's never been done before and we have a chance to make history."
Tim Visser will also be making his Murrayfield bow in international colours and the Dutch-born winger is hoping to add to the two tries he scored on his debut against Fiji.
"To get the chance to play against the current world champions is incredible and is genuinely a dream come true," said the 25-year-old.
"In terms of challenges, they don't come any bigger. I feel like my career has been steadily building up to this point and I'm now well prepared to go into something like this.
"After the summer tour, we can take some confidence going into this game.
"We're confident in our own ability and that's something we need to concentrate on.
"We've got a set game plan. We've been given very clear directions on what to do and what to exploit.
"We all know that New Zealand are a good team, but we've got to leave it there and concentrate on ourselves."