Remembrance Day 2012: 'The Jonny Wilkinson of his day'
By Graham McKechnie
BBC Berkshire Sport
Last updated on .From the section Rugby Union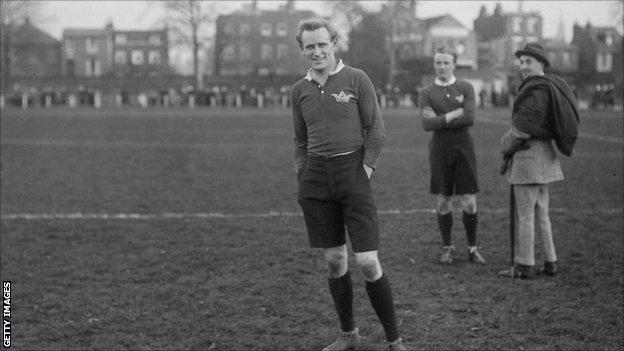 The German sniper who fired the shot that killed Ronald Poulton Palmer could not have known the significance of the life he took.
To him he was just a shadow across a muddy field - a silhouette illuminated for a fatal moment by a flare in the early hours of a chilly May morning. His grieving father may have believed that his son was singled out, but the reality was his was another indiscriminate death on the Western Front although the impact would be felt further than most.
Poulton Palmer is Reading's greatest rugby player. Oxford, the city of his birth, may have a claim on him too. And Liverpool, where he played as a young man, and Harlequins also had their parts to play. But as a Palmer, he and his family dominated the town and, like so many Edwardian young men, rugby was only part of his extraordinary life.
Let's deal with his rugby first though. When I made a BBC radio documentary about Poulton Palmer four years ago, the rugby historian Huw Richards described him as the "Jonny Wilkinson of his day" arguing the case for his inclusion in an all-time England XV. Jason Robinson or David Duckham would be other modern comparisons - all three relied on speed and agility to evade opponents. Contemporary writers describe more than anything else his swerve - unlike anything then seen on a rugby pitch.
His tall and slender build and shock of blond hair gave him the dash of glamour which combined with his astonishing feats (five tries for Oxford in the Varsity match of 1909, four tries against France in 1914, captain of England) made him a national hero.
We sometimes look for flaws in our heroes, perhaps to reassure ourselves of our own inadequacies. But with Poulton Palmer you look in vain. He took interest in the plight of his factory workers, of the poorer elements of society in Liverpool and later in Reading; he founded boys clubs in Caversham and elsewhere in Berkshire, to promote healthy living as an escape from the early 20th century slums.
He even spoke out in favour of broken-time payment for rugby players, to allow them to continue to play the sport and not to be out of pocket from missing time in the factory, mill or mine. I am wary of elevating anyone too high on a pedestal, but Ronald Poulton Palmer did a lot of good in the 25 years he spent on this earth.
When he was shot it was said that he died instantly, the bullet hitting side of his ribcage as he worked on a dugout near Plugstreet Wood in the Ypres salient in 1915. The repercussions lasted much longer. Men of the 1/4th Battalion of the Royal Berkshire Regiment wept at the news and as his body was carried past them from the front line back to what is now the Berkshire Cemetery.
There was no "celebrity culture" in 1915, but the Berkshire newspapers were soaked with the tears of the county - with tributes, anecdotes and photographs from those who knew him well or in passing - from bishops to Reading boys - which continued for many weeks.
The sport of rugby had probably had its fair share of Poulton Palmer. Had he survived World War I, it's unlikely that he would have played the game again. He would have turned his attention to the other elements of his life - to the Huntley & Palmer biscuit factory he was to inherit, to the University of Reading and to other philanthropic projects. He may have been an MP - his presence would surely have dominated the town.
It's the loss of Ronald Poulton Palmer's potential we mourn, as well as the loss of the man. And on 11 November he is not alone: Scotland lost 30 internationals, England 27, France 23, Wales 13, New Zealand 12, nine each from Ireland and Australia and four from South Africa.
At the going down of the sun and in the morning, we will remember them.
Graham McKechnie is also BBC Radio Berkshire's London Irish commentator.