World Cup seedings at stake in autumn internationals
Last updated on .From the section Rugby Union179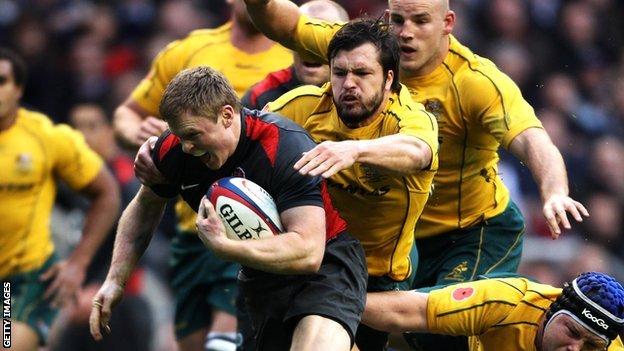 While the next Rugby World Cup in England is still more than three years away, the events of the next month may have a direct bearing on shaping its outcome.
On the surface, the autumn Tests are merely the latest building block in a four-year cycle between global gatherings, a chance for the home nations to assess their options before the Six Nations, blood some new players, and claim the odd southern hemisphere scalp.
But this year's matches have an added edge, given the draw for the 2015 tournament will take place on Monday 3 December, two days after the forthcoming international series ends.
The top four in the International Rugby Board world rankings on that date will avoid each other in the World Cup group stages, while those ranked five to eight will only face one other top-eight nation.
So England (currently fourth), France (fifth) and Wales (sixth) - separated by a point or so in the world governing body's convoluted system - are not short of motivation if they want to improve their prospects of an easier passage into the knockout stages in three years' time.
Neither are Ireland - who will probably need to beat either South Africa or Argentina to avoid dropping out of the top eight - or Scotland, who will likely need to win at least two of their three autumn Tests to make it into the second group of seeds.
While renewed optimism invariably accompanies a new international season in the northern hemisphere - "We aim to win all four Tests," says England assistant coach Andy Farrell; "We have to be ambitious, go for four out of four," says Wales captain Sam Warburton - recent history compels us to put such aspirations into context.
Of 34 matches played in Europe by the old Tri-Nations 'big three' of New Zealand, Australia and South Africa since 2008, the hosts have won on only six occasions.
The All Blacks don't really do autumn Test defeats anymore.
Since their last loss (31-28) at Twickenham on 9 November 2002, and a 20-20 draw in France the following week, they have won their last 24 Tests during the autumn period, completing 'Grand Slams' over the four home nations in 2005, 2008 and 2010.
Their only Test defeat of any kind on European soil during the past decade came in their infamous World Cup quarter-final loss to the French in Cardiff in 2007.
That record is all the more remarkable considering the matches come at the end of the southern hemisphere season, when fatigue and injuries usually catch up with teams at some point.
The other members of the big three, by contrast, are prone to losing the odd Test or two on their end-of-season European jaunts.
Australia have lost 10 of their 27 in the past decade, including three times to England, twice each to Wales, Ireland and France, and memorably to Scotland on their last visit two years ago.
South Africa have also lost 10 of their 22 matches in November/December during the same period, including twice in Edinburgh and three times in their last four trips to Dublin.
So what are the prospects for the home nations this time as they ponder a critical month?
While Farrell says "it would be accepting defeat to say our goal was to get three victories", you suspect the England management would be pleased with that - in private at least.
New Zealand's historical tendency to lose at Twickenham once every decade (1983, 1993, 2002) might give red rose supporters hope, but defeats in their last nine encounters with the All Blacks since 2003 do not augur so well.
An injury-blighted Australia and under-strength South Africa would traditionally be seen as an exciting prospect for England at home, but the Wallabies won in London in 2008 and 2009 and the Springboks have breached the old 'Fortress' on their last three visits to south-west London.
South Africa may be missing a dozen frontline performers, but England are also light in certain positions, notably at hooker where the loss of Dylan Hartley is a blow.
Stuart Lancaster's young team are on the road to recovery after a promising Six Nations campaign and creditable displays in South Africa, but a seminal performance to match the false-dawn highlight of the Martin Johnson era - the 35-18 dismantling of Australia - might be a while off yet.
Of the home nations, perhaps only Wales - assuming they negotiate Argentina and Samoa beforehand - currently have sufficient quality and confidence to give New Zealand any pause for thought.
The 2012 Grand Slammers are without influential tight-head Adam Jones - a concern amplified by scrummaging fanatics Argentina providing the first opposition at the Millennium Stadium - and influential flanker Dan Lydiate will also be missed.
But if those filling in for Jones - Aaron Jarvis and Paul James get first crack on Saturday - can keep their end up at scrum time and the Six Nations champions can generate enough quick ball, they still have a backline bristling with game-breakers and likely 2013 Lions.
Ireland - deprived of six potential tourists in Brian O'Driscoll, Rob Kearney, Rory Best, Paul O'Connell, Stephen Ferris and Sean O'Brien - will do well to repeat their Dublin victories over the Springboks of 2004, 2006 and 2009.
With a clutch of relative newcomers and a non-cap match against Fiji to negotiate in between, Declan Kidney must hope he has more resources at his disposal by the time their critical final match against Argentina on 24 November rolls around.
Scotland, meanwhile, remain maddeningly inconsistent or gloriously unpredictable, depending on your point of view. Andy Robinson's men already have a Six Nations wooden spoon and an unbeaten southern hemisphere tour on their CV for 2012.
If a first ever win over the All Blacks remains a remote prospect, repeating their 2010 win over the Springboks at Murrayfield is not beyond the realms of possibility, with Tonga to follow in Aberdeen.
Any dimming of the southern stars by the north's leading lights provides sustenance as winter approaches.