Jamie Roberts will leave Cardiff Blues at the end of the season
Last updated on .From the section Rugby Union90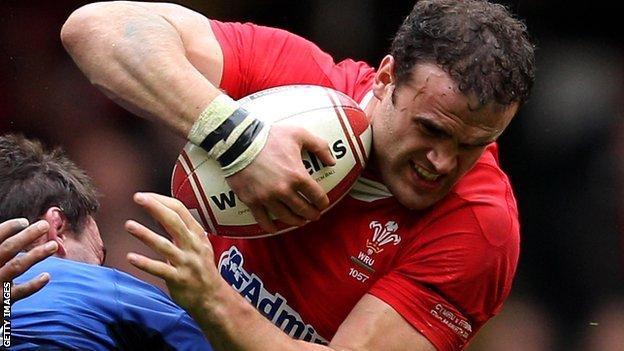 Wales and Lions centre Jamie Roberts will leave Cardiff Blues when his contract expires in May.
Blues boss Richard Holland said Roberts rejected an offer to make him the highest paid Blues player, and possibly the best-paid in the UK.
Roberts said he was leaving to experience rugby outside Wales.
"[I want] to emerge from the experience of playing for a new team as a better rugby player and to broaden my personal horizons," said Roberts.
"I am proud of what I have achieved so far in my rugby playing career and remain determined to continue to aspire to win international honours for Wales.
"This has been an extremely difficult decision, but I am absolutely certain it is the correct time for me to enter a new stage of my career.
"As professional players we work immensely hard and there comes a time when you know that a fresh environment will help you retain the sharp edge of determination required to remain a contender for top honours."
Roberts has played 44 times for Wales and played two Tests for the Lions against South Africa in 2009.
It is expected the 25-year-old medical student will move to a club in France.
Racing Metro, one of the richest clubs in European rugby, are favourites to secure his signature.
Welsh regions have lost a host of leading internationals to French clubs over recent seasons, including Gethin Jenkins, Mike Phillips and James Hook.
Roberts, who made his Blues debut in 2007 and has since made 81 appearances, will return to the Wales side to face Argentina on Saturday after missing the summer tour to Australia with injury.
And Roberts concedes Welsh rugby has played a big part in his development.
"I owe a great deal to Wales and to Welsh rugby and I retain today the pride I felt in 2008 when I first pulled on the international jersey for my country of birth," he said.
"I have enjoyed an incredible time at Cardiff Blues in the company of some great players, coaches, administrators and fans who have helped shape my career.
"I will complete my medical training in March and currently have the opportunity to step outside the academic environment for a couple of years before I take up my required hospital training period."
Blues chief executive Holland told BBC Radio Wales: "We've been negotiating with Jamie for over a month now and he's decided he's leaving the club at the end of the season, so we're disappointed but we wish him all the best for the future."
Holland believes Roberts's decision to leave is not purely based on money, although the player himself conceded in September his decision would be influenced by financial considerations.
"I think there are a combination of things," said Holland.
"Obviously money is an important part but Jamie feels a change in direction for his career and that's his decision and we respect that.
"We put an excellent offer on the table that we believed was competitive without the assistance of the Welsh Rugby Union and he decided not to accept the offer we put on the table."
More money from the WRU to help fund keeping Roberts at Cardiff Arms Park might not have made any difference in this instance, according to Holland.
"I'm not sure in this case that an offer would have helped, but certainly dialogue continues between the four regions and the Welsh Rugby Union," he said.
"Certainly we're committed to those conversations and hopefully what you'll see as a result of this is some models of schemes that will enable us to retain these international players in Wales."
In a statement issued by the Blues, however, chairman and financial backer Peter Thomas repeated his call for the WRU to take over the funding of the professional game in Wales.
"We have invested a lot of time, money and effort developing Jamie as a rugby player from an early age after identifying him as a star of the future," he said.
"We have stuck by him through thick and thin and supported him during last season when he only completed two matches for the Blues because of his knee injury and international duties, playing 15 matches for Wales.
"It is impossible for the Welsh regions to compete with the kind of money that is on offer from other clubs in other countries.
"The time has come that the Welsh benefactors should not be responsible for funding the professional game.
"The chairmen of the regions can guide companies but if we want to keep Jamie Roberts and other international players in Wales then the governing body has to intervene.
"The player drain out of Wales, which has a negative impact on the Welsh regions and the national team, will only continue without increased funding from the governing body.
"As an example with our recent game against Leinster, the IRFU pay for 14 of their players and additionally fund the province for the remaining players in excess of four million euros. Compared to the cost of the Cardiff Blues squad that's almost double.
"You'll never win the Heineken Cup with that margin to compete with."
"The governing body has to take far more responsibility."