Cornish Pirates crush Rotherham 53-21 in the Championship
Last updated on .From the section Rugby Union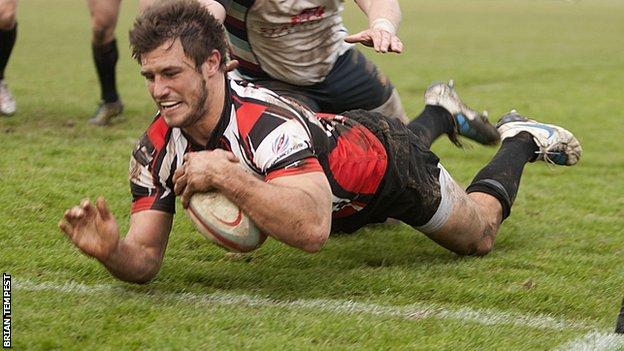 Cornish Pirates boss Ian Davies praised his side after they crushed Rotherham 53-21 in the RFU Championship.
Pirates ran in eight tries on their way to recording their biggest win of the season so far.
"We did what we needed to do, we took our chances, created pressure and scored tries," Davies told BBC Radio Cornwall after the match.
"Pre-match there was a determination there and coming off the field there was an enjoyment on their faces."
A drop goal from Garry Law gave Rotherham a first-minute lead, but the Titans were soon on the back foot as Laurie McGlone, Rob Elloway and Phil Burgess all scored tries in the first half.
The Pirates led 22-9 at the interval after two more drop goals from Law and Burgess added his second try just after the break, before Edward Stagg pulled one back for the visitors.
Stagg grabbed his second after Gary Johnson had extended the Pirates' lead to 36-16 up but the visitors finished strongly with Junior Fatialofa, Ben Mercer both touching down and Burgess completing his hat-trick in the final minute.
Despite the win, Davies was quick to remind people that his team were far from the finished article.
"Lots of boxes were ticked, but we've got to be realistic about it.
"They're in between coaches, they've got a lot of injuries, but we knew that coming into the game and we didn't give them any emotional energy to play with," he said.
"I felt that in the first half we could have gone in a couple more scores ahead than we did.
"But we kept the focus, we've been in that position at half time before where we've had a good lead and sat back, but fair play to the boys, they kept their foot down to the last minute.